MSNBC host Joe Scarborough was quick to call out Democratic Sen. Claire McCaskill (D-Mo.) on the air Tuesday after she claimed that Congress defunding Planned Parenthood would only result in more abortions.
After criticizing how the controversial undercover Planned Parenthood videos were gathered, McCaskill said the "common ground" is everyone wants to "prevent abortions."
"How in the world do we prevent abortions by taking away money for birth control for millions of women across this country? That's going to increase abortions, not decrease them," she added. "None of this money is used for abortion — it's illegal to use it for abortion. It's for birth control and cancer screenings and sexually transmitted diseases."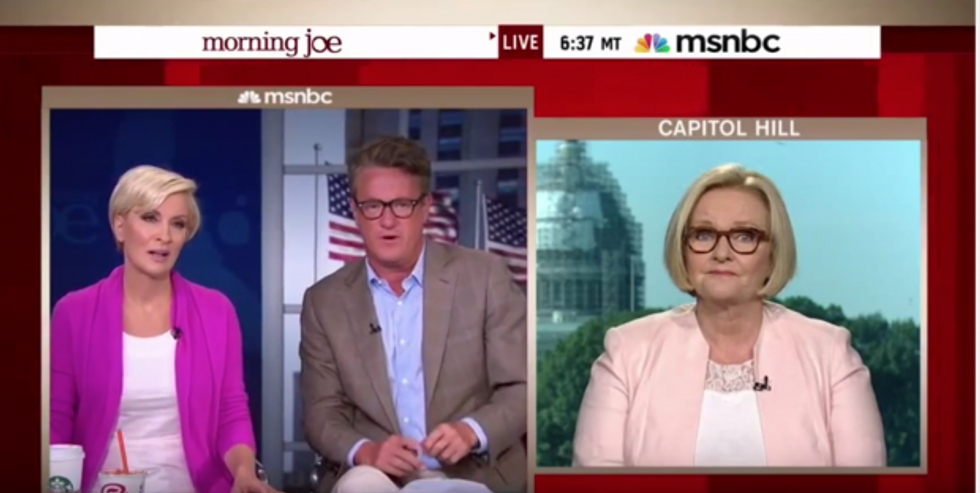 MSNBC
Visibly frustrated with her assertion, Scarborough replied, "Nobody wants to take away birth control."
"I think there are a lot of people who believe in a woman's right to choose who wouldn't support federal funding for Planned Parenthood," he added. "They aren't the only people that can hand out birth control."
"I don't think you realize how many women that Planned Parenthood is their go-to resource," McCaskill replied. "I'm not saying that they are the only ones that should. I'm saying, investigate them, make sure they haven't broken the law, don't give them tax money for abortions — but don't cut off the very way we avoid abortion in this country."
Scarborough repeated, "Nobody wants to do that."
"We'll have this debate later. I'm being yelled at in my ear," he added before going to break.
Watch the exchange via MSNBC below:
---