An Israeli minister fired back at U.S. Energy Secretary Ernest Moniz after he told Israeli journalists that if he were Israeli, he would support the deal on Iran's nuclear program.
"If I was Israeli, I would support the Iran deal," Moniz said Monday, according to Israel's i24 News, adding that the deal represents a "a commitment from Iran to never have nuclear weapons; it's not for 10 or 15 years — it's forever."
Israeli Energy Minister Yuval Steinitz fired back on Tuesday, saying, "If I were American, I would oppose the agreement."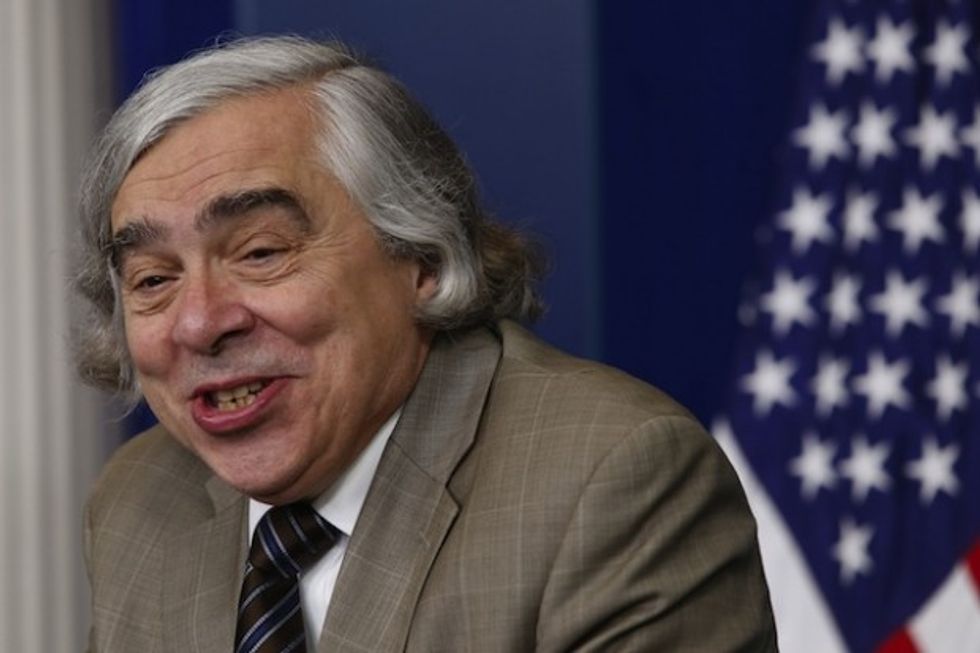 U.S. Energy Secretary Ernest Moniz speaks about the Iran nuclear agreement during a press briefing at the White House in Washington on July 31, 2015. (Yuri Gripas/AFP/Getty Images)
Steinitz listed the reasons he opposes the deal, including that the agreement "ensures" that Iran will become a nuclear power in 10 years; that it could lead to a Middle East nuclear arms race; and that inspections are not "immediate or invasive enough" under the deal.
"If I was American, I would oppose the agreement, because it hurts the national security of the U.S., of Israel and of all the Western nations," Steinitz said.
Moniz's declaration was at odds with the most recent Israeli public opinion surveys, not to mention Israeli Prime Minister Benjamin Netanyahu's strident opposition to the agreement.
The energy secretary's assessment prompted the deputy editor of the Times of Israel to tweet this comment:
If I were a donut, I'd support Iranian bear enrichment, says top US official currently tripping on LSD. http://t.co/BLOy4rEv5N

— Joshua Davidovich (@JMDavido) August 4, 2015
As to Israeli public opinion, a poll by Israel's Maariv last month found that 71 percent of Israelis believed that the deal will move Iran closer to a nuclear weapon.
The question asked was: "In your view, does the agreement that was signed bring Iran closer to obtaining a nuclear weapons capability?"
A poll of Jewish Israelis conducted by the Geocartography Institute before the final agreement was reached found that 48.5 percent of respondents considered the emerging deal to be a threat to Israel's existence. Twenty-two percent said it did not pose an existential threat.
When the earlier poll asked whether they trust Obama to maintain Israel's security, 44.5 percent of Israelis said they did not, while 21.9 percent said they did.
Netanyahu is vehemently opposed to the deal, which he has called "dangerous" and "bad."
The Israeli reporters at the briefing asked Moniz if he would back the agreement as analyzed from the Israeli perspective, the Times of Israel reported.
Moniz, one of the top Obama administration officials who negotiated the deal with Iran, answered positively, adding that "a fair amount" of the Israeli public may share his assessment.
"But clearly, [the nuclear deal] is part of a bigger issue in terms of how we are going to address our collective security requirements in the region," he said. "This is an important tool for us to do that, by taking the existential threat off the table."
Moniz also said the deal does not mark a U.S. pivot toward Iran and away from its traditional Middle East allies.
"Make no mistake about it: This agreement does not change one iota who our friends and allies are in the region. It's Israel, it's the GCC [Gulf Cooperation Council], and maybe a couple of other Arab states in region. Those are our friends and allies," Moniz said, according to the Times of Israel.
"Iran does not move out of the box unless support for terrorism is addressed. That includes Hezbollah, obviously; unless activities increasing regional instability are addressed; unless human rights issue are addressed … and in my personal view that the rhetoric around Israel changes dramatically," the energy secretary added.