Kentucky police have arrested a man they say posted a Craigslist advertisement that attempted to solicit help from the "black community" to murder police officers.
"The Black community should stick together and start targeting the police-for years cops have used their badges and guns to unjustly kill way to many Black People-Yes they should rise up and burn the police stations to the ground-let the damn cops worry about if someone is going to put a bullet in their head-Rise up and aim for their head-dont shoot at the chest because they have bullet proof vests on-Aim carefully and go for the head-kill the f*****s and let God sort out the bodies," a screenshot of the ad reads.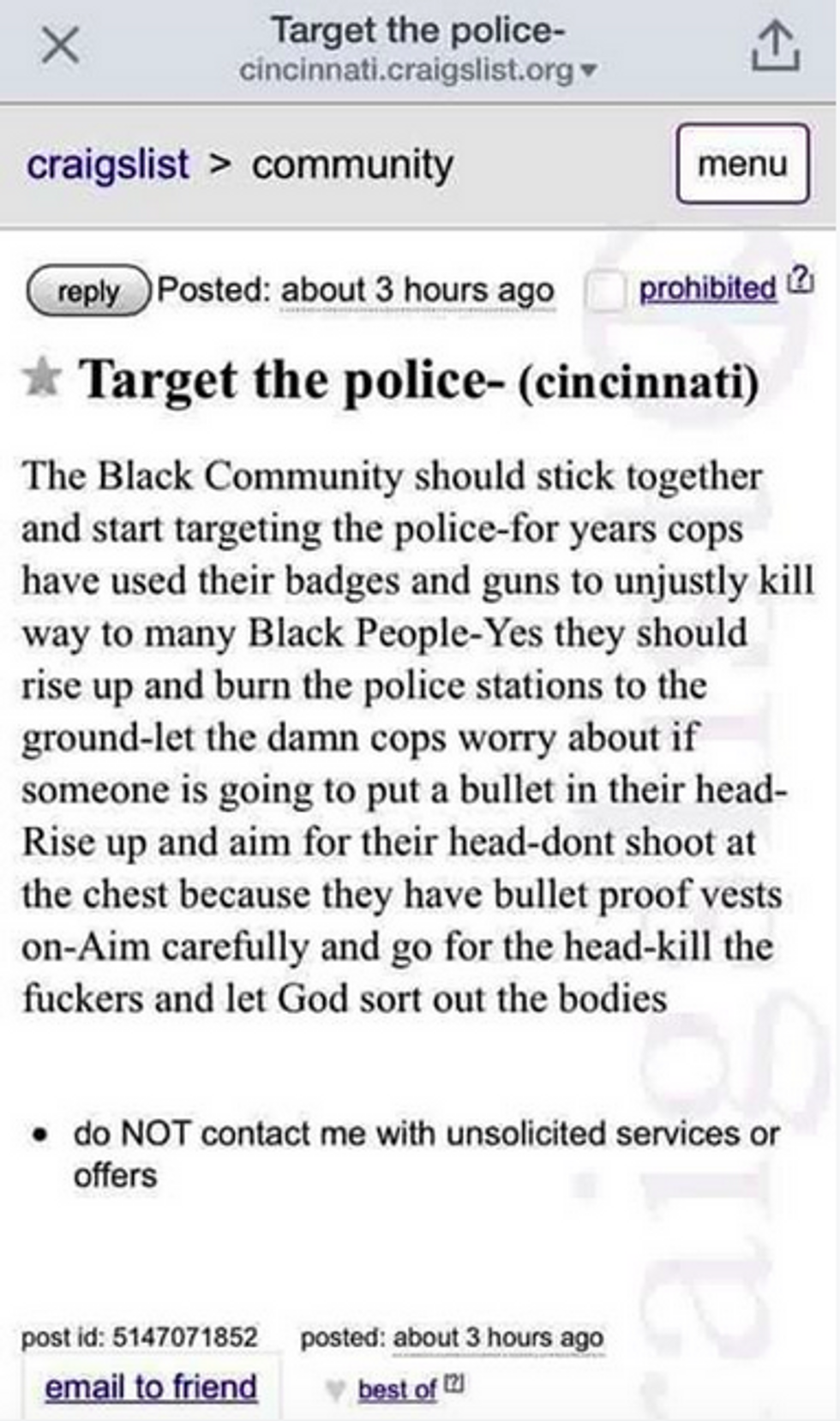 Image via Hamilton County Sheriff's Office/Facebook
Hamilton County Sheriff's Office in Ohio said in a Facebook post that analysts at the Greater Cincinnati Fusion Center were able to identify the man who posted the ad to Craigslist and notified Kentucky State Police.
Authorities arrested Marvin Poindexter Gee of Christian County, Kentucky, and charged him with solicitation of murder of a police officer, WXIX-TV reported. His bond was set at $500,000.
"Well done in disrupting a possible threat to our community and Officers! (As always a reminder to keep comments appropriate)," the Hamilton County Sheriff's Office posted.
The advertisement was posted to the Cincinnati community page on Craigslist in the wake of a University of Cincinnati police officer fatally shooting a black man during a traffic stop. Officer Ray Tensing was fired from the force and is being charged with murder.