In preparation for Thursday night's first Republican presidential debate, the moderators say that when it comes to Donald Trump, they have a plan.
Fox News hosts and debate moderators Megyn Kelly, Bret Baier and Chris Wallace spoke with Politico about the preparation that has gone into the debate that will feature 10 Republican presidential candidates — the most to ever appear in a primary debate. But among the vast number of candidates hoping to shine Thursday, one is particularly unpredictable.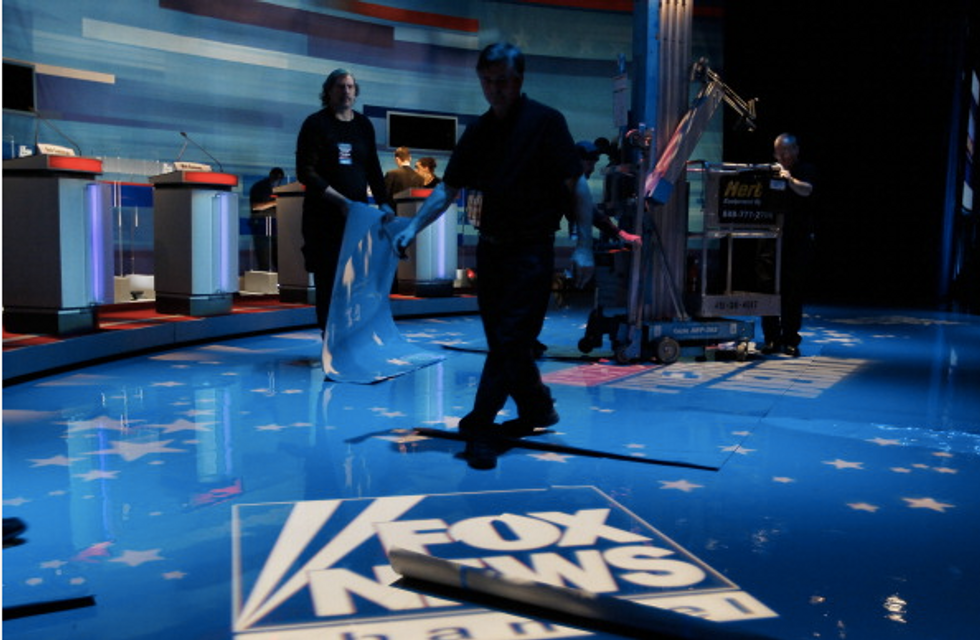 Workers prepare the stage for the Fox News/Wall Street Journal South Carolina Republican primary debate at the Sheraton Myrtle Beach Convention Center, Jan. 16, 2012 in Myrtle Beach, S.C. (Joe Raedle/Getty Images)
Trump has said he is "not looking to attack" his opponents during the debate and would like to "just discuss the issues," but in the event that he doesn't follow the rules or refuses to stop talking, Kelly says they've got it covered.
"We have a plan, but we're not going to share it with you," Kelly told Politico.
Baier also assured Politico that Trump will be treated exactly the same as any other candidate.
"Everybody is going to know all the rules going in; there is going to be a sound at the end of their time — it won't be a pleasant sound," Baier said.
"Are we thinking about different scenarios? Sure," he said. "Our job is to make sure everybody plays by the rules."
The debate will air at 9 p.m. Thursday on Fox News.
Read more about how the Fox News hosts have prepped for the debate here.
---