The Cincinnati man who was fatally shot by a police officer in July and said in the officer's bodycam video that he "didn't even do nothing" might have had marijuana and thousands of dollars in cash in the car, according to sources who spoke with a retired NYPD officer.
"Samuel DuBose may not have been on the way to take his son to a movie," John Cardillo told WJNO radio, adding that he learned from unnamed sources at the University of Cincinnati and the Cincinnati Police Department that "nearly two pounds of marijuana and thousands of dollars in cash" were found inside DuBose's car.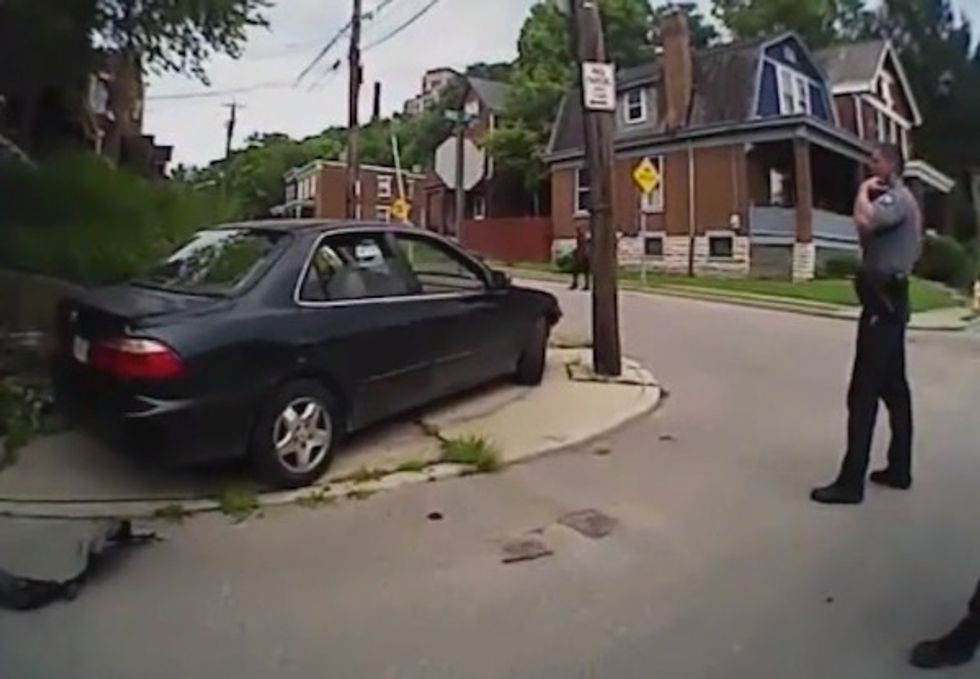 DuBose's car after he was shot as seen in a police officer's body camera. (Image source: AP video screenshot)
This, Cardillo said, would explain "why he was resistant and why he was closing the door on the officer."
Cardillo said Cincinnati Police Department's Public Information Office "could not deny this nor could the Hamilton County prosecutor's office," both only saying that they haven't released information on what was found in the vehicle.
"In my experience, that says that this information that I'm getting is very accurate," Cardillo, who has his own show on WJNO radio Saturday afternoons.
Cardillo went on to say he thinks this was a "very hasty political prosecution and a very hasty investigation."
Listen to Cardillo talk about the case:
DuBose, 43, was pulled over for a missing license plate by University of Cincinnati police officer Ray Tensing on July 19. Tensing's bodycam video showed him asking DuBose for his license repeatedly and then asking him to step out of the vehicle when he failed to produce it. The officer starting to open the car door, the driver began to drive off and the 25-year-old fired his gun, hitting and killing DuBose. Tensing, who was fired from his post and pleaded not guilty to murder charges, said he was dragged by the vehicle.
WLWT-TV was not able to get an official to confirm the amount of marijuana allegedly in the vehicle, which was searched after a warrant was obtained. It noted, however, that "multiple sources" also said that officers found "a little less than two pounds of marijuana":
According to reports, the marijuana was found in the car's center console, under the front passenger seat and on the floor behind the driver's seat.

Police sources said the street value for the amount of marijuana found in DuBose's car is  anywhere between $2,000 and $5,000 depending on the quality and the demand.

Police said any marijuana weighing more than two pounds is considered a felony.
The news station more specifically reported that the police department's search warrant inventory document revealed that four bags and a jar of marijuana were found.
Watch WLWT's report:
Neither police department immediately responded to TheBlaze's request for comment.
A bottle DuBose held up during the traffic stop before he was fatally shot was deemed a fragrance bottle by Hamilton County coroner Dr. Lakshmi Sammarco this week. Sammarco said in a statement that lab analysis found compounds consistent with those commonly found in air fresheners or perfumes.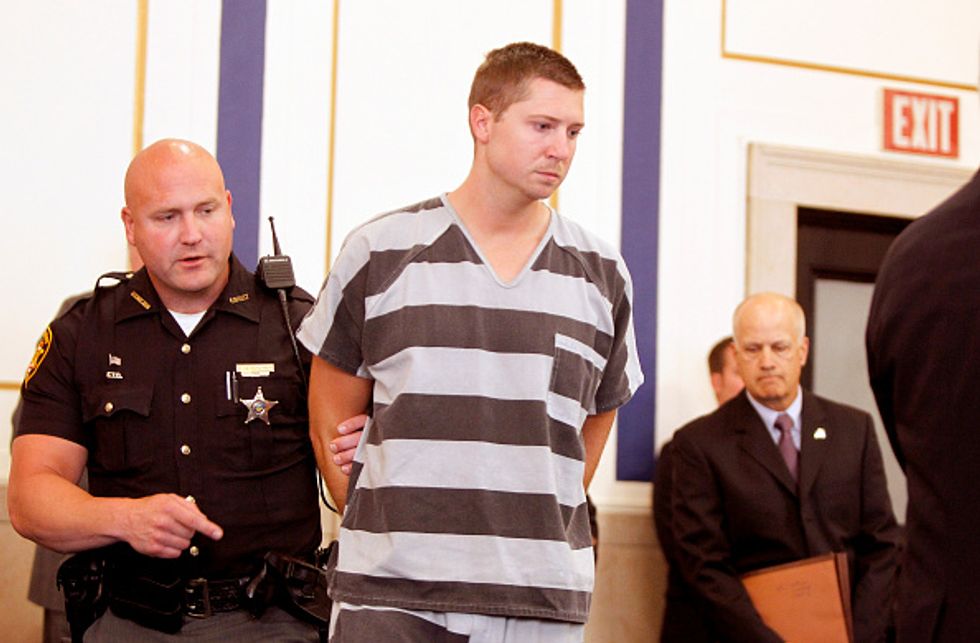 Former University of Cincinnati police officer Ray Tensing enters Hamilton County Common Pleas Court to be arraigned on murder charges July 30, 2014 in Cincinnati, Ohio. Tensing pleaded not guilty in the shooting death of Samuel Dubose during a routine traffic stop on July 19. Bond was set at $1 million. (Mark Lyons/Getty Images)
Court documents filed on Monday said DuBose's family created an estate for him in Hamilton County Probate Court in preparation for a possible wrongful-death claim.
Meanwhile, a Cincinnati City Council committee voted Monday to suspend an agreement with UC allowing officers there to patrol city streets. DuBose was stopped off campus. The issue will go before the full council later this week.
—
The Associated Press contributed to this report.