What exactly is comedian Louis C.K. doing following around New York City mayor Bill de Blasio?
That's the question many are asking after the star of FX's "Louie" was spotted Tuesday attending meetings with the liberal mayor of the nation's largest city, the New York Daily News reported.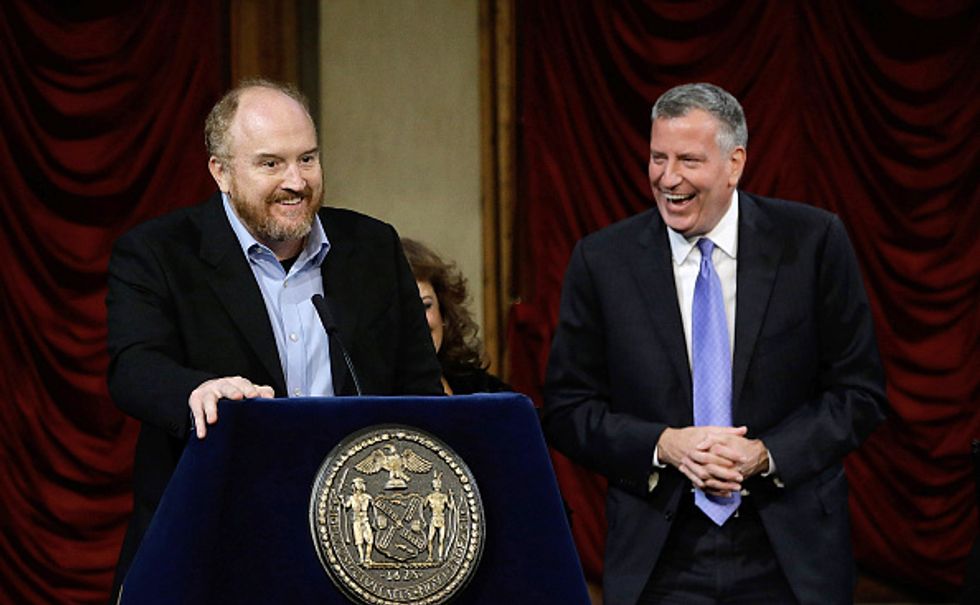 Louis C.K and New York City Mayor Bill de Blasio attend 'Made In NY' Awards Ceremony at Weylin B. Seymour's on November 10, 2014 in Brooklyn, New York. (Photo by John Lamparski/WireImage)
The funny man made a surprise appearance at the city's Financial Control Board meeting and then later showed up and took notes at a meeting where city officials testified to the state board that oversees New York City's finances.
But those weren't the only outings C.K. made with De Blasio. The comedian was also seen alongside the city's chief executive at city hall in a meeting about mental health and then again on Tuesday night at an anti-crime event in Brooklyn.
The Daily News reported that the two are working on a major project together, but C.K. has denied that, saying it's a "total coincidence."
"I just happen to be going to all the same places," the comedian joked.
Asked directly about all the extra time they've been spending together, De Blasio suggested the comedian fits right in at the city's headquarters.
"There's a lot of comedy at city hall," the mayor said.
But it isn't as if the two just met. Their relationship reportedly goes back a few years, but the Daily News pointed out that the two appeared together more recently in March in a skit.
A representative for De Blasio did not immediately respond to TheBlaze when asked for further comment on Wednesday.
(H/T: New York Daily News)
–
Follow Jon Street (@JonStreet) on Twitter