Secretary of State John Kerry said Thursday's anniversary of the atomic bombing of Hiroshima emphasized the importance of the agreement with Iran over its nuclear program.
Asked before a meeting with Japan's foreign minister if he had any thoughts about the significance of the 70th anniversary of the world's first atomic bombing, Kerry said, "It is impossible not to have thoughts about it."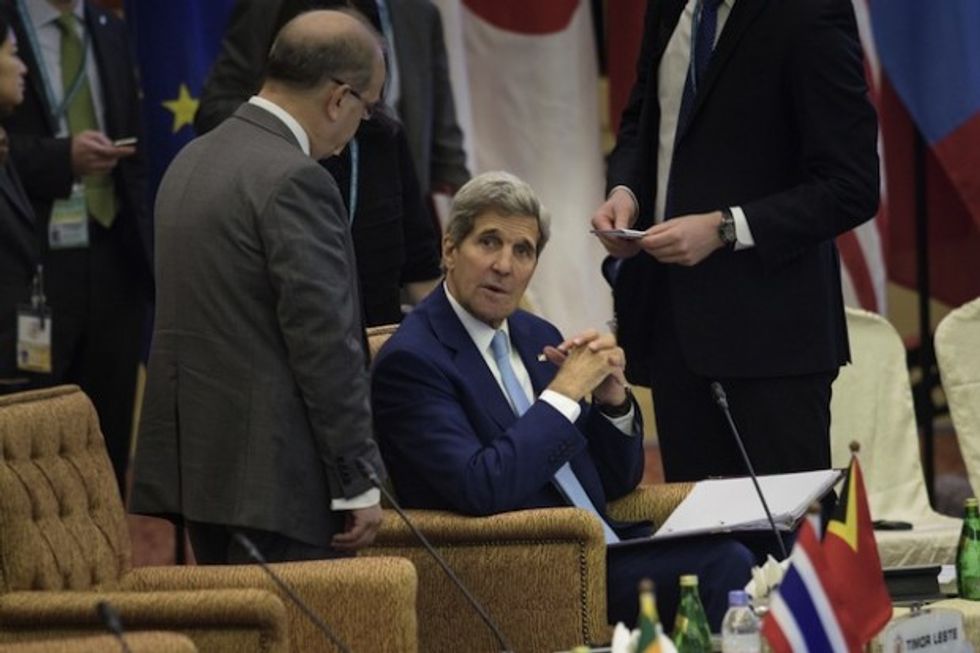 Secretary of State John Kerry speaks with Daniel Russell, assistant secretary of state for East Asian and Pacific Affairs, before the 22nd Association of Southeast Asian Nations regional forum session at the Putra World Trade Centre in Kuala Lumpur, August 6, 2015. (Brendan Smialowski/AFP/Getty Images)
Kerry noted that he had watched the ceremony in Hiroshima marking the anniversary and said, "Needless to say, it is a very, very powerful reminder of not just the impact of war lasting today on people and countries, but it also underscores the importance of the agreement we have reached with Iran to reduce the possibility of more nuclear weapons."
"The United States and other countries are working to move — particularly Russia and the United States with our agreement — to reduce the number of existing nuclear weapons," Kerry added.
The U.S. bomber the Enola Gay dropped a nuclear bomb on Hiroshima on August 6, 1945 which along with the bombing of Nagasaki led to the Japanese surrender in World War II.
Kerry was in Kuala Lumpur, Malaysia, for a meeting of the Association of Southeast Asian Nations, which endorsed the Iran agreement Thursday.
The Associated Press reported that a joint statement issued by the group said the deal would "ensure the exclusively peaceful nature of Iran's nuclear program."