VIENNA (TheBlaze/AP) — Satellite imagery of an Iranian site possibly used for work on a nuclear weapon shows crates, trucks and construction that may be linked to a renewed attempt to clean up before an inspection by the U.N.'s nuclear monitor, a nonproliferation institute said Thursday.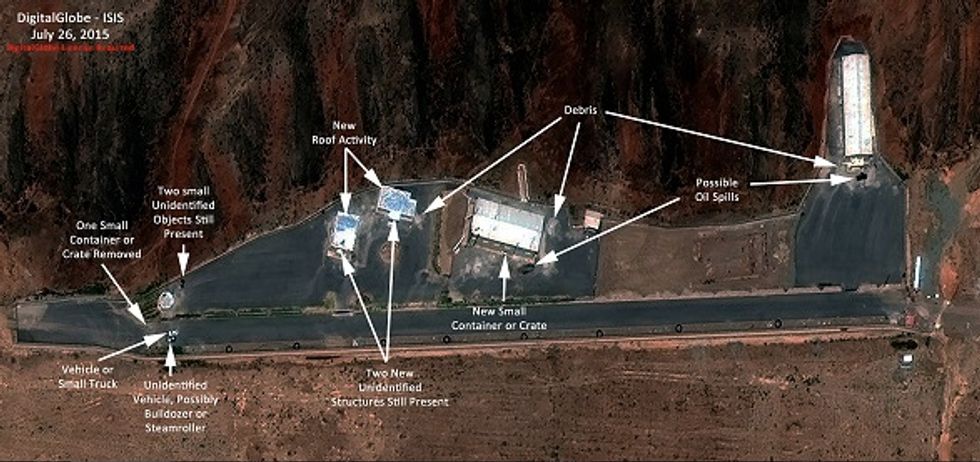 Institute for Science and International Security analysis using DigitalGlobe imagery is showing renewed activity at a site at the Parchin military complex that has been linked to high explosive work related to the development of nuclear weapons. (Image source: DigitalGlobe/ISIS via Getty Images)
The International Atomic Energy Agency — the U.N. watchdog — has repeatedly cited previous evidence of possible attempts to sanitize the Parchin site. But the report by the Institute for Science and International Security is significant because the IAEA plans to visit the site soon as part of the deal between Iran and six world powers focused on limiting Iran's nuclear programs in exchange for the removal of economic sanctions.
The institute cited commercial satellite images in an email to The Associated Press, saying they show "renewed activity" at the site. It said that "could be related to refurbishment or cleanup prior to any IAEA inspection or the taking of environmental samples."
It said the images show what appear to be a bulldozer or a steamroller, containers that have been repositioned and two new structures "of unknown purpose" that appeared between late May and early July.
"This renewed activity ... raises obvious concerns that Iran is conducting further sanitization efforts to defeat IAEA verification," said the Washington-based think tank, which is often consulted by the U.S. government.
Senate Foreign Relations Committee Chairman Bob Corker told Bloomberg View the new developments have given him "a lot of concerns" about Iran's commitment to the nuclear agreement.
"The intel briefing was troubling to me," he told the outlet. "Some of the things that are happening, especially happening in such a blatant way ... Iran is going to know that we know."
In Tehran, the foreign ministry called the report "baseless (and) ridiculous," saying any construction at the site is linked to road repairs.
Access to Parchin would follow years of refusal by Iran, which denies any interest in — or work on — nuclear arms. Based on U.S., Israeli and other intelligence and its own research, the IAEA suspects that the Islamic Republic may have experimented with high-explosive detonators for nuclear arms at that military facility south of Tehran, and other weapons-related work elsewhere.
Nasser Karimi contributed from Tehran.
—
Follow Dave Urbanski (@DaveVUrbanski) on Twitter