Democrats and liberal advocacy groups infuriated over New York Sen. Chuck Schumer's Thursday announcement that he will oppose the Iran nuclear deal are openly challenging whether he is qualified to lead the party.
Schumer, the number three Democrat who is next-in-line to lead the party, announced during the GOP presidential debate that after "careful thought and considerable soul searching" he had decided to "oppose the agreement," one of the hallmark deals of the Obama administration.
Now, many are seemingly questioning whether he is fit to lead the Democrats.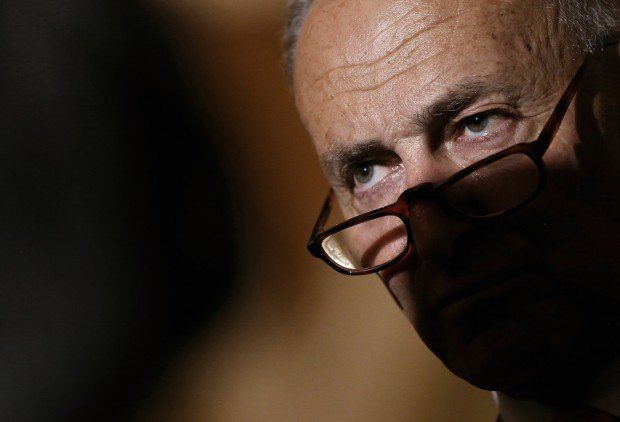 Sen. Chuck Schumer listens as Senate Minority Leader Harry Reid answers questions at the U.S. Capitol June 2, 2015 in Washington, D.C. (Photo by Win McNamee/Getty Images)
Former senior adviser to President Barack Obama Dan Pfeiffer tweeted that Schumer's decision "will make it hard for him to lead" the Democrats going into 2016.
Jon Favreau, a former White House speechwriter, asked, "This is our next Senate leader?"
White House spokesman Eric Schultz retweeted a comment which seemingly threatened retribution on Schumer if he "lifts a finger to get other Dem NO votes."

Image source: Twitter
Secretary of State John Kerry said, "I obviously profoundly disagree with the judgement made."
MoveOn's executive director Ilya Sheyman said in a statement that "no real Democratic leader does this."
"If this is what counts as 'leadership' among Democrats in the Senate, Senate Democrats should be prepared to find a new leader or few followers," Sheyman said, according to The Hill. "In response to Senator Schumer's decision to side with partisan war hawks, MoveOn.org's 8 million members are immediately launching a Democratic Party donor strike."
—
Follow the author of this story on Twitter and Facebook: