Billionaire Mark Cuban offered up some praise and some criticism during Thursday night's Republican debate – though more of the latter.
There was one candidate, however, whom Cuban said he likes "a lot": Florida Sen. Marco Rubio.
"I like Rubio. A lot. His approach. His background. His temperament," Cuban wrote on Cyber Dust, a live online messaging platform, the Dallas Morning News reported.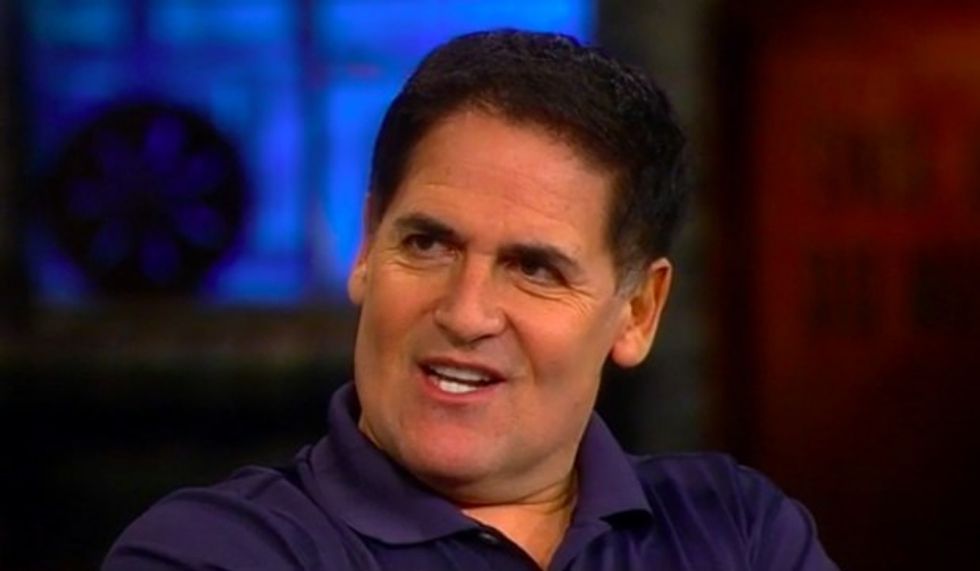 Dallas Mavericks owner Mark Cuban appears on The Glenn Beck Program Feb. 24, 2015. (Photo: TheBlaze TV)
But the Dallas Mavericks owner didn't seem as impressed by the other candidates, particularly Donald Trump and Ted Cruz.
"I am so not a Ted Cruz fan," he wrote, adding that the junior senator from Texas is "like the YouTube influencer that got hired by Fox News."
"Everything is like its from a Fox producers' meeting," Cuban said. "My skin is crawling."
Of Trump, Cuban said the current poll leader should expect to be asked about his controversial remarks about women "every day."
But one of Cuban's comments about Trump came even before the candidate had a chance to answer.
"The hardest part of the debate is to listen and not jump the question. You can just see him dying inside to answer when the question is one he is prepared to answer," Cuban wrote.
He went on to point out that Trump "gets to win points" because since he's not a politician, he can call politicians stupid.
"And just using the word stupid wins him points," Cuban wrote.
As for former Florida Gov. Jeb Bush, Cuban suggested that if his last name were different, he might soon be polling much better.
Cuban also added his take on Wisconsin Gov. Scott Walker, currently polling just behind Bush.
"This is totally not fair. Or right. But every time Scott Walker starts to talk his mannerisms make me feel like it's the start of a Saturday Night Live impersonation skit," he wrote.
And given how frequently Republicans tend to invoke Ronald Reagan, Cuban pulled a page from the Lloyd Bentsen playbook and pondered how long it might be before someone says of Trump: "I knew Ronald Reagan and, sir, you are no Ronald Reagan."
(H/T: Dallas Morning News)
–
Follow Jon Street (@JonStreet) on Twitter