NEW YORK (AP) -- An estimated 24 million people watched Fox News Channel's prime-time debate with the top 10 Republican presidential candidates, the highest-rated broadcast in the network's history.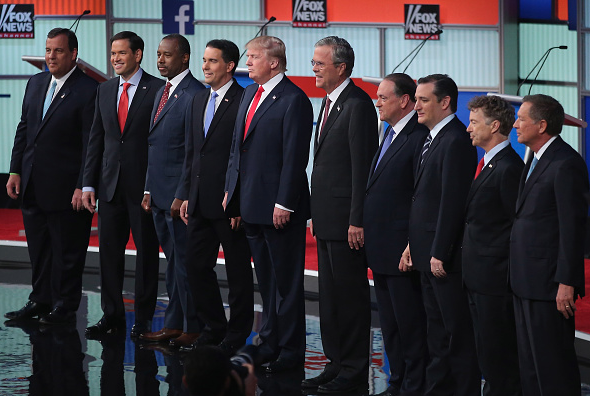 Republican presidential candidates (L-R) New Jersey Gov. Chris Christie, Sen. Marco Rubio (R-FL), Ben Carson, Wisconsin Gov. Scott Walker, Donald Trump, Jeb Bush, Mike Huckabee, Sen. Ted Cruz (R-TX), Sen. Rand Paul (R-KY) and John Kasich take the stage for the first prime-time presidential debate hosted by FOX News and Facebook at the Quicken Loans Arena August 6, 2015 in Cleveland, Ohio. The top-ten GOP candidates were selected to participate in the debate based on their rank in an average of the five most recent national political polls. (Photo by Scott Olson/Getty Images)
The Nielsen company said Thursday's debate ratings more than doubled Fox News' best ratings in the past, for election night 2012. A debate with seven lower-polling candidates earlier Thursday had 6.1 million viewers.
The debate turned into a slugfest with front-runner Donald Trump in particular feeling the heat. He tweeted out criticism of the network's three moderators as "not very good or professional" and retweeted a message from a supporter who called the network's Megyn Kelly a "bimbo."
I really enjoyed the debate tonight even though the @FoxNews trio, especially @megynkelly, was not very good or professional!

— Donald J. Trump (@realDonaldTrump) August 7, 2015
"@timjcam: @megynkelly @FrankLuntz @realDonaldTrump Fox viewers give low marks to bimbo @MegynKelly will consider other programs!"

— Donald J. Trump (@realDonaldTrump) August 7, 2015
Fox News Chairman Roger Ailes defended his moderators, calling it "the best political debate team ever put on television."