Hundreds of people in Syria, including dozens of Christians, have been kidnapped by Islamic State extremists, according a report from a human rights group.
The Syrian Observatory for Human Rights said on its website that at least 230 civilians, which included at least 60 Christians who had sought refuge in the city of Qaryatayn, were captured by the Islamic State group and others are missing.
"The reliable sources informed SOHR that IS kidnaped [sic] them according to name lists, and that some of them were arrested Dar Alyan monastery in the city of al Qaryatayn, where unknown militiamen kidnapped the pontiff Jack Mrad, who is the head of monastery, was kidnapped from the monastery 10 weeks ago," the human rights group stated. "The clashes between the regime forces and allied militiamen against IS militants are still taking place between the city of al- Qaryatayn and town of Mahin in the southeast of Homs."
Where these kidnapped individuals might have been taken is not known, according to SOHR.
Rami Abdurrahman, who leads the organization,told the Guardian some of the Christians had fled to Qaryatayn from the northern Aleppo province. He added that the names of people who were kidnapped were listed for "collaborating with the regime."
#Syria | Names of Assyrian Christians reportedly missing or captured by #ISIL in Al -Qaryatayn #Homs. pic.twitter.com/vdgSljceHE

— Zaid Benjamin (@zaidbenjamin) August 7, 2015
More specifically, Abdulrahman told Reuters the people were "either kidnapped from checkpoints or raids or from churches."
Amnesty International's Syria researcher Neil Sammonds told the Guardian the report sounded credible.
"We know that Christians and 'collaborators' are a target of IS," he said. "They are at the highest risk either for some kind of summary justice or for Christians in particular, some kind of high ransom demand or exchange."
Earlier this year, the Islamic State released a video that appeared to show the beheading of Christians in Libya. And Christians in Jerusalem this summer were warned by Islamic State members to beware of "revenge," threatening to kill them if they had not left the area by the end of the Muslim holiday of Ramadan.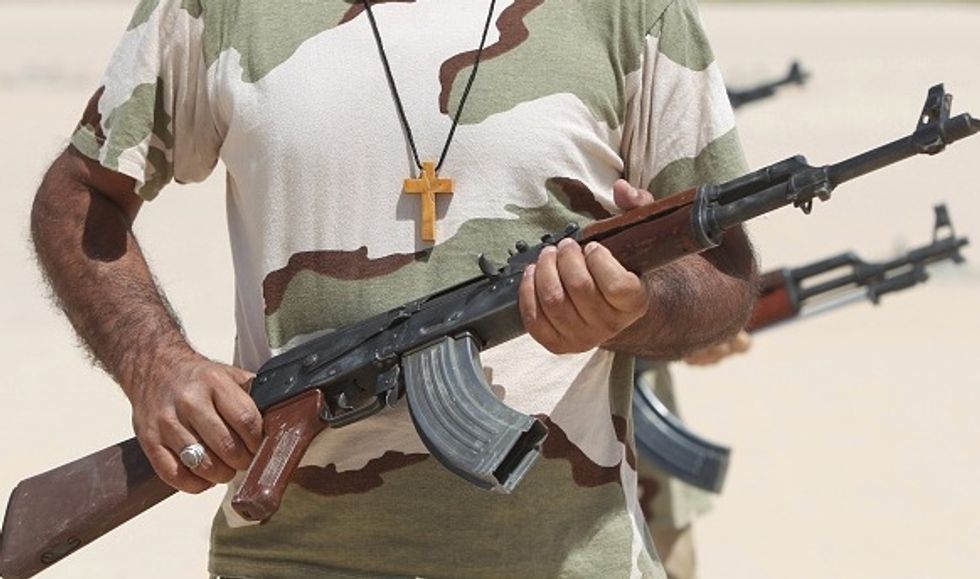 Iraqi Christian volunteer fighters from Baghdad and the northern embattled Mosul governorate, attend a training session at a base in Baghdad airport on July 1, 2015, after joining the Popular Mobilisation units in the combat against Islamic State (IS) group fighters. (AHMAD AL-RUBAYE/AFP/Getty Images)
In June in Iraq, members of the Islamic State seized a Christian church and transformed it into a mosque.