The New York Times took more than two weeks to correct a July story stating that the anti-abortion group behind a series of undercover Planned Parenthood videos released an unedited version of a video "after Planned Parenthood complained of selective, misleading editing."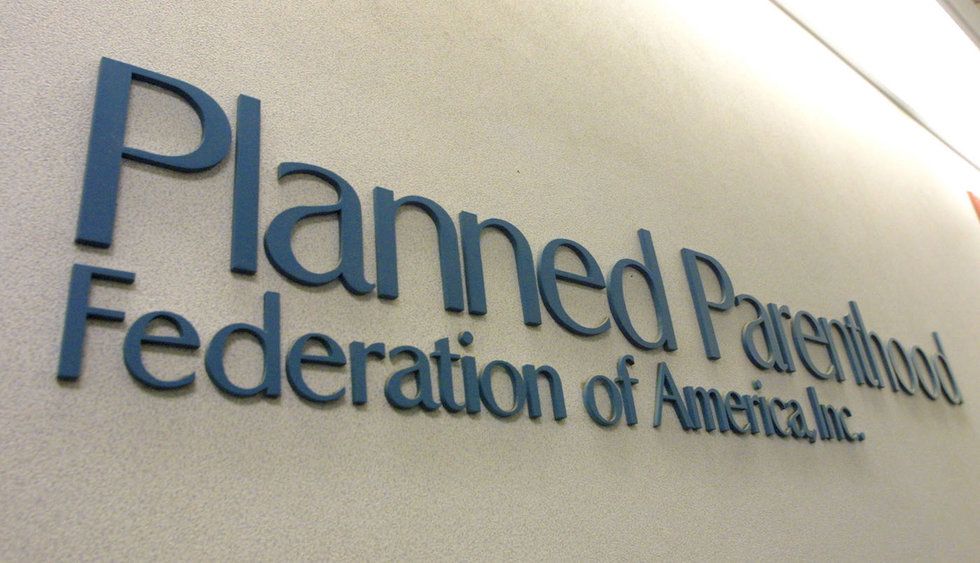 Mario Tama/Getty Images
In fact, the Center for Medical Progress did release the full-length video along with the edited clip, something even Times columnist Ross Douthat took note of in his op-ed, "Looking Away From Abortion," all the way back on July 26.
The following Times correction appeared at the bottom of a July 20 story, "Planned Parenthood Tells Congress More Videos of Clinics Might Surface." The correction appears to refer to a print version of the July 20 story that ran July 21: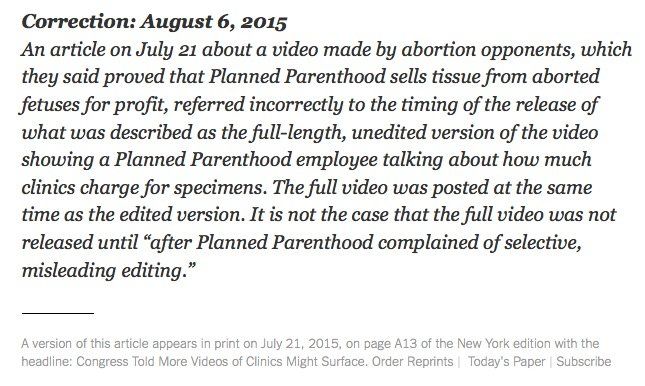 Image source: New York Times
The correction reads: "An article on July 21 about a video made by abortion opponents, which they said proved that Planned Parenthood sells tissue from aborted fetuses for profit, referred incorrectly to the timing of the release of what was described as the full-length, unedited version of the video showing a Planned Parenthood employee talking about how much clinics charge for specimens. The full video was posted at the same time as the edited version. It is not the case that the full video was not released until "after Planned Parenthood complained of selective, misleading editing."
The Times also issued a similar Aug. 6 correction at the bottom of its July 22 editorial, "The Campaign of Deception Against Planned Parenthood": "An earlier version of this editorial incorrectly stated that the full video was released by Center for Medical Progress after complaints by Planned Parenthood. It was posted at the same time as the edited version."
A spokesperson for the Times did not respond Friday to TheBlaze's request for comment regarding the time it took to print the correction.
There have been five undercover videos released so far, and the Center for Medical Progress indicated more are coming. The clips purport to show Planned Parenthood officials discussing the sale of fetal tissue for medical research — including kidneys, hearts and livers — which has caused a firestorm around the prominent abortion provider.
(H/T: Washington Examiner)
—
Follow Dave Urbanski (@DaveVUrbanski) on Twitter