NEW YORK (TheBlaze/AP) — A mother was arrested on a murder charge after her newborn baby boy was found dead in the courtyard of their apartment building, police said Saturday.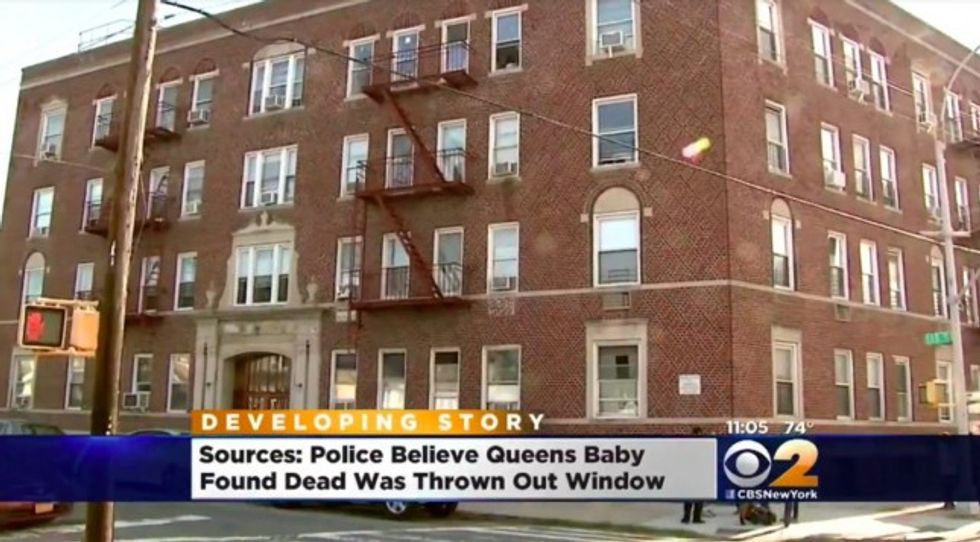 Image source: WCBS-TV
Rashida Chowdhury, 21, was awaiting arraignment a day after the infant, whom police identified as Rizwan Ahmad, was found dead in a onesie in the barren area in the middle of their building.
It was unclear whether Chowdhury had a lawyer who could comment on the charges, and no telephone number could immediately be found for her Queens apartment.
Medical examiners ruled the baby's death a homicide, saying he died of blunt impact injuries and had suffered skull fractures and lacerations to the brain, liver and spleen.
But police haven't publicly detailed how they believe he died. They had been investigating whether he fell, was tossed from a window or was left in the courtyard, and they had questioned other relatives in addition to the mother.
Sources told WCBS-TV that the infant was believed to have been thrown from a bathroom window and was alive when thrown, the station's Tracee Carrasco reported. Neighbors told 1010 WINS that the boy lived with his family on the fourth floor, WCBS added.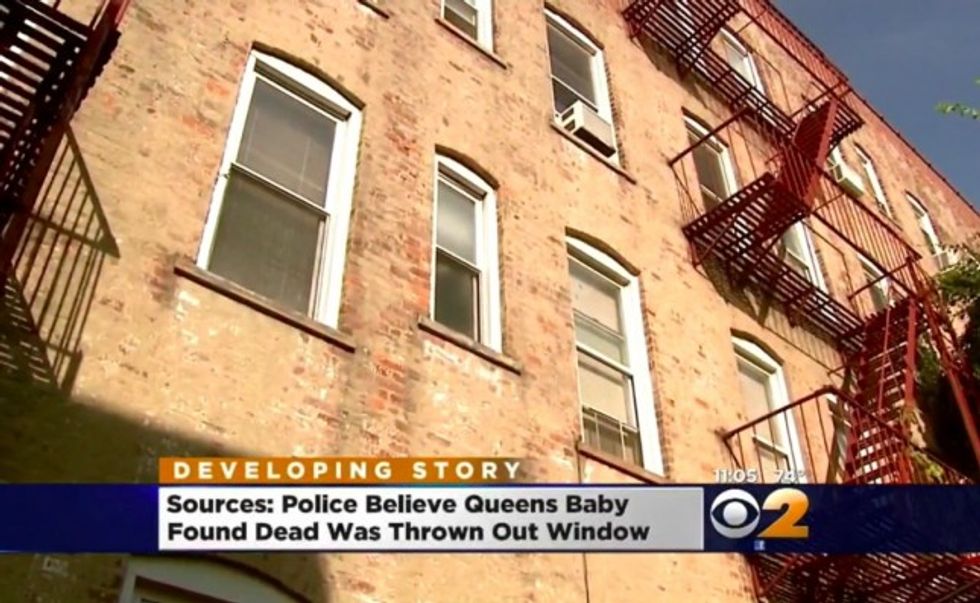 Image source: WCBS-TV
Along with Chowdhury, the boy's father, Muhamed Ahmed, two other adults and two children were in the apartment at the time, sources told WCBS, and all were questioned by police.
Neighbor Mazol Ilyayeva told reporters she heard something fall around 4 a.m. Friday and then saw the child's lifeless body in the courtyard.
"I saw blood everywhere," she told WCBS.
"I couldn't move. I couldn't scream," Ilyayeva added Friday. "I couldn't even look. ... It's horrible."
She said the parents had seemed stricken as they stood in the courtyard after.
"The mom was holding the husband," she said. "Their faces were blank."
The following report aired before the arrest and murder charge:
—
Follow Dave Urbanski (@DaveVUrbanski) on Twitter