HOUSTON (TheBlaze/AP) — Eight people — including five children and three adults — were found dead inside a Houston-area home following the arrest of a man who exchanged gunfire with police, Texas authorities said Sunday.
Deputies were called to a home in the 2200 block of Falling Oaks Road about 9 p.m. Saturday to perform a welfare check, Harris County Sheriff spokesman Thomas Gilliland told KHOU-TV. Gilliland said deputies subsequently received information indicating that a man inside the home was wanted on a warrant for aggravated assault on a family member.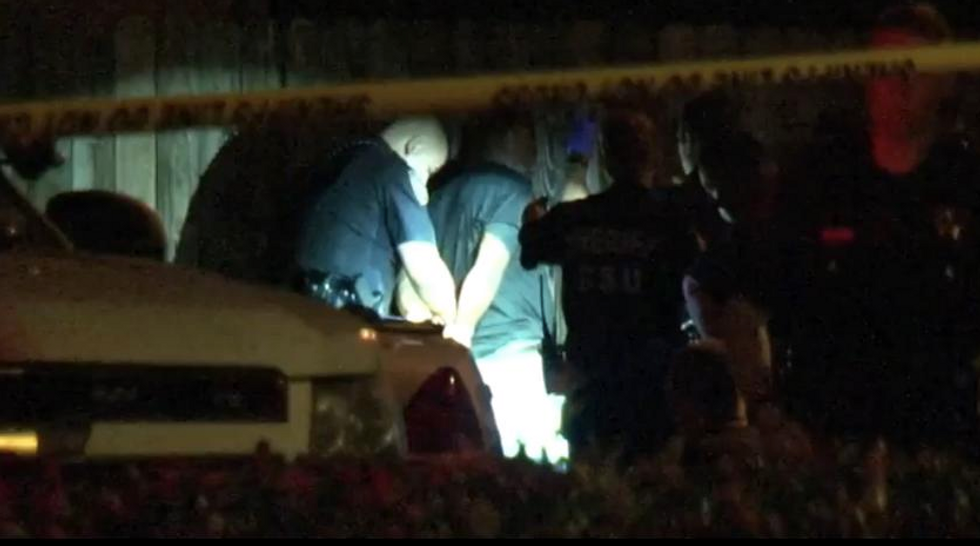 Police in Harris County say a man shot at them before a standoff ensued. Once the man surrendered, police found the bodies of eight people inside of the home. (Image via Twitter @KHOU)
Gilliland said while waiting for a High Risk Operations Unit to arrive at the scene, deputies spotted the body of a juvenile through a window. Four deputies then forced their way into the home, prompting the 49-year-old male suspect inside to begin shooting. Deputies pulled back and waited for the operations unit to arrive.
According to the Houston Chronicle, negotiators were able to communicate with the suspect, who then surrendered about an hour later. The man was taken into custody without any further incident.
"At this time we have what appears to be five children and three adults," Gilliland said. "Ages and genders we do not have, and cause of death we do not have. The medical examiner will have to determine a cause of death."
The relationship between the suspect and unidentified victims wasn't immediately known. No further details were released.
"Homicide detectives have taken over the operation along with our crime scene unit. Due to the amount of victims and the proximity to the people in the house, it'll be a scene that's going on for a while."
The Houston Chronicle reported that there had been calls to police from that home in the past.
UPDATE: Deputies knew there was a history of family violence at home where 8 people found dead #KHOU11 #HouNews @KHOU pic.twitter.com/njCUg7muB7

— Grace White (@GraceWhiteKHOU) August 9, 2015
"It's a hard job being a patrolman in this town, and our deputies do a yeoman's job every day, but when they're forced to see some of the most horrific things along this nature, especially of children, and someone so callous could do something like this to children — we have our family assistance coming out to talk to our deputies and help them decompress," Gilliland told KHOU.