A father reportedly allowed his 20-year-old daughter to drown to death because he was concerned about her being touched by men outside her family, according to a Dubai news site.
Quoting a top police official, Emirates 24/77 reported Sunday that the man got in the way of lifeguard rescue attempts on a Dubai beach in order to prevent her modesty from being violated.
"The father was a tall and strong man. He started pulling and preventing the rescue men and got violent with them. He told them that he prefers his daughter being dead than being touched by a strange man," Lt. Col Ahmed Burqibah, deputy director of the Dubai police's Search and Rescue Department, told Emirates 24/7.
"She died unfortunately, at a time when she had a chance to live, especially that the rescue men were so close to her to pull her out of the water," he said.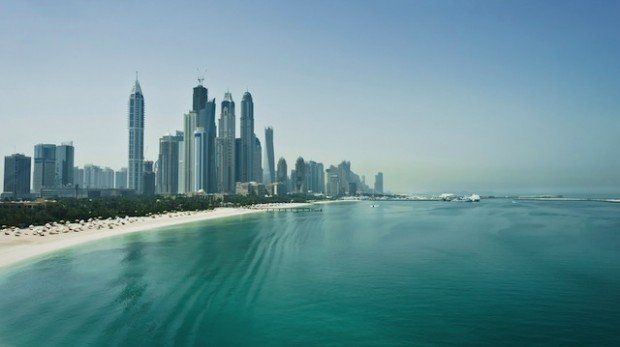 A beach in Dubai (Photo credit: Shutterstock/Boytsov)
The man was identified only as an "Asian expat."
"The Asian father took his wife and kids to the beach for picnic and fun. The kids were swimming in the beach when suddenly, the 20-year-old girl started drowning and screaming for help," Burqibah said.
The police official said two lifeguards rushed to help the drowning girl.
"However, there was one obstacle which prevented them from reaching the girl and helping her," Burquiba said. "This obstacle was the belief of this Asian man who considered that if these men touched his daughter, then this would dishonor her. It cost him the life of his daughter."
Dubai police said they arrested the man for getting in the way of the rescue crew and contributing to his daughter's death.
The case was reminiscent of the 2002 fire at a girl's school in Mecca in Saudi Arabia, when it was reported that religious authorities prevented girls whose heads were not covered by Islamic headscarf from leaving the burning building. Fifteen girls died in the fire.
"This is one of the incidents which I cannot forget," Burqibah said of the Dubai drowning. "It shocked me and many others who were involved in the case."