The violent scene outside of a New Jersey bar on Sunday was caught on video by an Associated Press reporter, and the footage is now going viral.
A sidewalk brawl happened outside of Bello's Pub And Grill in Newark involving two rival soccer teams, the New York Red Bulls and New York City Football Club. The video shows a number of shirtless men chanting "Who are ya?" while picking up random objects and throwing them at each other, the New York Post reported.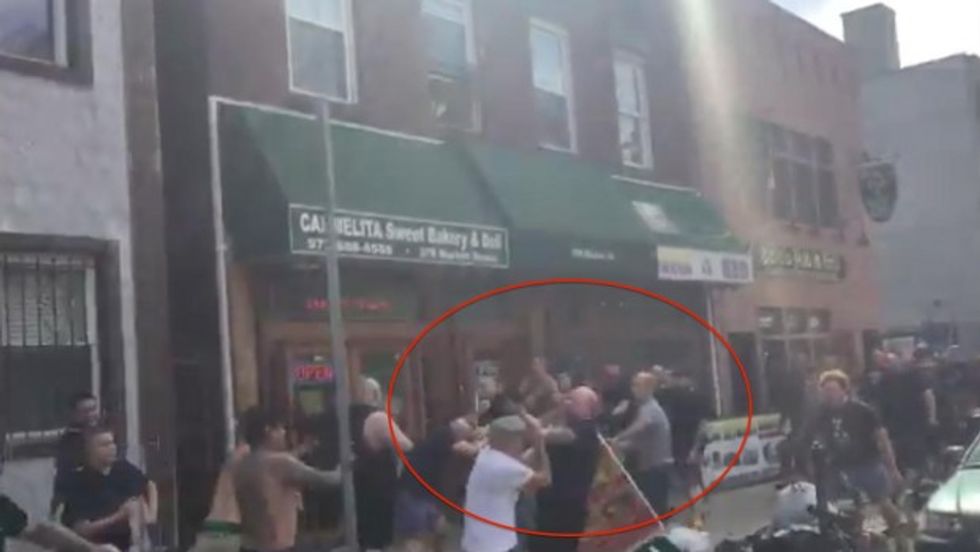 Image via Twitter/@RobHarris
The heated confrontation reportedly lasted only a few minutes, and one bar employee told the Daily Mail that it did not stem from patrons drinking inside of the tavern. It's prompted new questions as to whether the sometimes violent culture among soccer players in a number of European countries has shifted westward and finally reach the American shore.
As the Daily Mail noted, several high-profile European soccer players have accepted big dollar contracts with teams in the U.S.
It's unclear as to how the fight initially broke out, and the video shows how participants quickly scattered as soon as police arrived.
New Jersey resident and soccer commentator Tony Meola offered a unique perspective concerning the violence, telling the Post, "This isn't fabricated. Where sometimes in the past I think we fabricated maybe because we had to fabricate some of these rivalries."
Representatives from neither team immediately responded to requests for comment from TheBlaze and a representative for the National Soccer League did not return calls.
The number of injuries or of any arrests was not immediately clear.
The Newark Police Department did not immediately respond to a request for comment from TheBlaze.
Watch the all-out soccer brawl caught on camera:
In New Jersey and immediately encounter crowd trouble ahead of the New York derby (Red Bulls-City). Video: pic.twitter.com/slY3hYn5aM

— Rob Harris (@RobHarris) August 9, 2015
(H/T: Daily Mail)
–
Follow Jon Street (@JonStreet) on Twitter