You likely know by now that the report last month of Ted Nugent and Kid Rock teaming up for a studio single about the Confederate flag was a hoax.
But the ruse likely got a few fans ruminating — and perhaps the Michigan-bred rockers themselves.
Because last weekend Nugent strapped on his six-string and walked onstage during two of Kid Rock's sold-out shows in Detroit.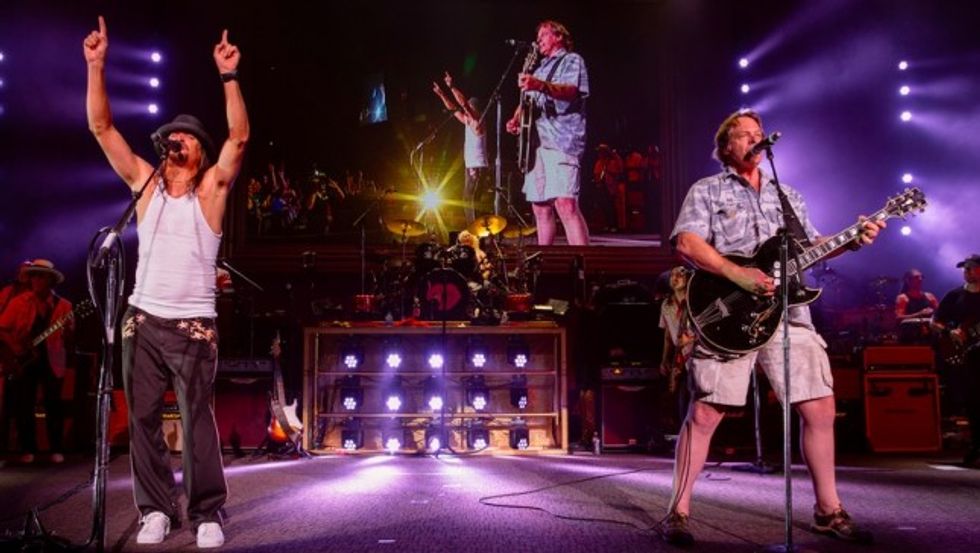 Image source: KidRock.com
"Killer rock 'n' roll is wonderful wherever you celebrate it, but when the Kid Rock and 'Uncle Ted Motor City' planets align, the outrage factor is off the charts." Nugent said in a statement. "Kid Rock and his amazing band continue the uniquely volatile tradition of high energy soul music that Detroiters created and carry on with pure animal vigor. Good Lord almighty, did we have a great time."
"Big thanks to Uncle Ted for rocking out with us on both nights!!" Kid Rock said on his website. "Motor city rock n roll is alive and well ..."
Nugent and Kid Rock, both outspoken artists, share a number of social and political views, particularly with regard to the Second Amendment.
Nugent — a lifelong outdoorsman and hunter — most recently declared the stupidity of people protesting the death of Cecil the Lion. Kid Rock last month had a pointed response for Al Sharpton's National Action Network, which demanded he denounce the Confederate flag.
Here's an all-too-brief taste of what transpired in concert:
#DetroitRockCity! @TedNugent in the house with @KidRock. Yes!!! pic.twitter.com/jkIne5o97r

— Dan Harland (@DanHarland) August 8, 2015
—
Follow Dave Urbanski (@DaveVUrbanski) on Twitter