You might think you did everything right — you cooked your steak to the perfect pink inside with a nice brown crust outside. So why is it still so tough and chewy?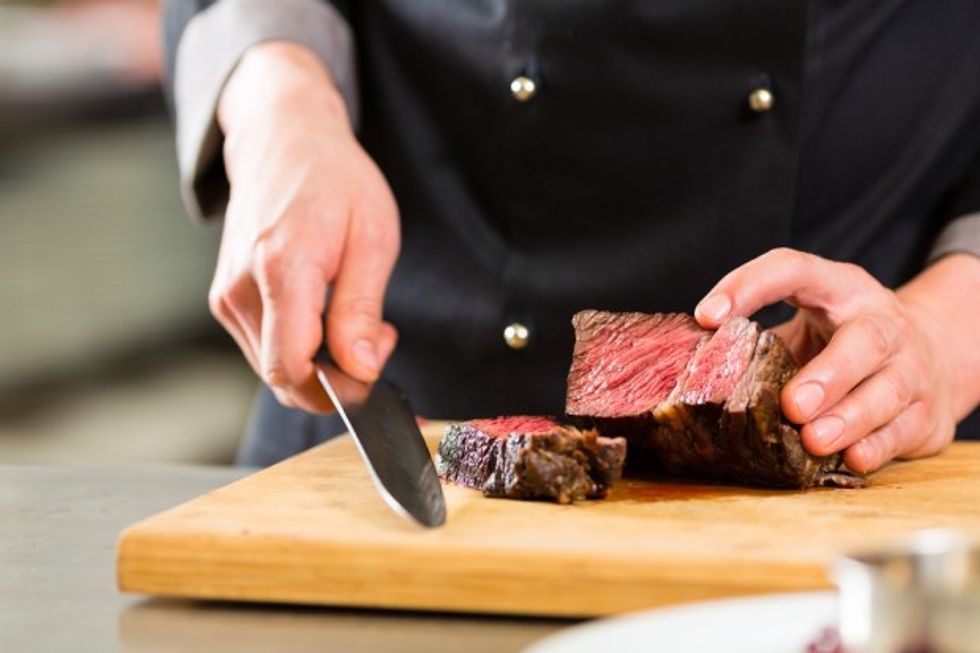 How you cut your steak has a great influence on its tenderness. (Photo credit: Shutterstock)
Take a close look. How did you slice it — with or against the grain?
You've probably heard that you should slice your meat against the grain, but perhaps you didn't realize how important adhering to that rule was to improve your food quality.
America's Test Kitchen conducted an experiment to put hard data behind why slicing against the grain is so preferable.
"We cooked a whole flank steak in a temperature-controlled water bath to 130 degrees, cut equally thick slices both with and against the grain, and used an ultrasensitive piece of equipment called a CT3 Texture Analyzer from Brookfield Engineering to test how much force was required to 'bite' into the slices," the test kitchen, which is based out of a 2,500-square-foot facility outside of Boston with dozens of full-time chefs and product testers, explained. "We repeated the experiment three times and averaged the results. We also duplicated the tests with a more tender piece of strip loin."
The results were clearly in favor of slicing against the grain.
The flank steak sliced against the grain required 383 grams of force for a 5-millimeter "bite" into the meat, while those carved in the same direction as the grain required 1,729 grams of force. That's more than four times more force required for the same "bite."
The more tender strip loin sliced with the grain still required more force than the pieces cut against, but it was significantly less than the flank steak (590 grams of force for with the grain compared to 329 grams for against).
Watch the video explaining how to properly carve steak and how it can actually improve the texture of an inexpensive cut of meat:
"Slicing against the grain dramatically narrowed the gap in tenderness between the strip and flank steaks," America's Test Kitchen wrote.
"In fact, slicing a flank steak properly can make it tender enough to rival premium steaks," it added later.
America's Text Kitchen has some other handy steak- videos.
Like how to properly re-heat steak:
And how to defrost meat quickly when it's dinner time and you realized it's still rock-solid:
(H/T: Gizmodo)
—
Front page image via Shutterstock.