BEIJING (TheBlaze/AP) -- For the third day in a row, China's currency continued to fall, but as its decline at least slowed, world stocks started to rebound. Still, that hasn't necessarily quelled fears of it sparking a "currency war."
China tried to ease fears of more big declines for the yuan as it on Thursday only fell 0.2 percent compared with drops of up to 1.9 percent on the previous days. It has dropped a total of 2.9 percent since Tuesday.
There is "no basis for persistent and substantial devaluation," said a deputy central bank governor, Zhang Xiaohui, at a news conference. Zhang said the yuan is close to "market levels" after two days of sharp declines.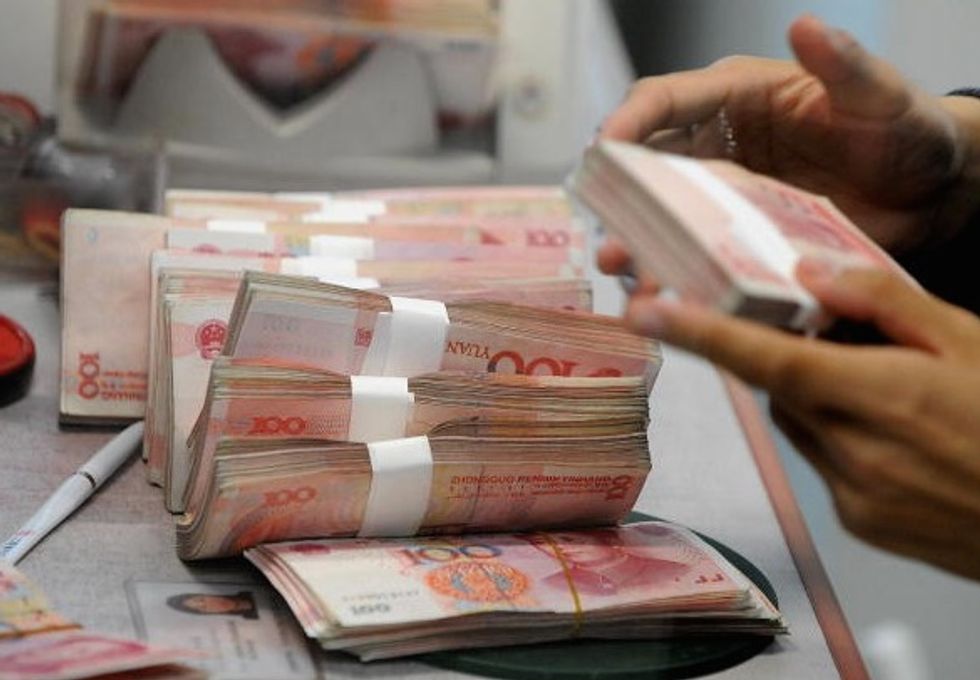 Chinese 100 Yuan notes are counted at a bank in Shanghai on April 11, 2008. China's central bank set the yuan at 6.992 against the USD, the first time the currency has broken through 7.000 since a peg with the US unit was scrapped nearly three years ago. This means the yuan has now risen about 18 percent against the USD since July 2005, when it was cut loose from a peg to the greenback. (MARK RALSTON/AFP/Getty Images)
The official reason for letting the tightly controlled yuan fall is to make it more responsive to market forces, but a weaker yuan also gives a competitive boost to exports from China, where the economy is slowing. Beijing said the yuan's decline was a one-time event and part of changes aimed at making the currency more market-oriented.
Many economists said the decline was too small to help Chinese exports due to weak global demand. But the change fueled concern the yuan might fall further, giving Chinese traders a price advantage over foreign rivals and possibly igniting a "currency war" if other governments fight back by depressing their own exchange rates.
Economist Albert Edwards with the French bank Societe Generale had strong words along these lines.
"Make no mistake, this is the start of something big, something ugly," Edwards told the Guardian, adding that he believes the devaluation could result in a "a tidal wave of deflation" across the world.
Here's more from the Guardian on what this could mean:
But today, with inflation already close to zero – indeed at zero in the UK – China's decision to devalue could bring a fresh wave of price weakness to the west.

Cheap goods are great news when economic demand is relatively strong; but economists fret about falling prices because entrenched deflation can prompt businesses and consumers to postpone spending – hoping prices have farther to fall – and blunt policymakers' standard tool of interest rate cuts.

Erik Britton, of City consultancy Fathom, said: "We're all going to feel it: we'll feel it through commodities; we'll feel it through manufactured goods exports, not just from China but from everywhere that has to compete with it; and we'll feel it through wages."
Edwards added to the Guardian that he thinks the deflation could lead to an "outright recession."
In the U.S., lawmakers condemned the devaluation as damaging for American businesses and workers, reviving an issue that was once one of the biggest sources of tension between the two world powers.
"When China doesn't play by the rules it costs Pennsylvania jobs," said Democratic Sen. Bob Casey, referring to the traditionally industrial state he represents.
Sen. Chuck Schumer (D-New York) chimed in as well, saying for years "China has rigged the rules and played games with its currency," according to the Associated Press.
Nicholas Lardy, an expert on China's economy at the Peterson Institute, countered that it was "preposterous" to suggest that China has suddenly taken the move to stoke growth in an economy that has been weakening for three years. He told the AP it would take at least a double-digit depreciation in currency value for it to have an impact on growth, and it would take six months or so to be felt, even if it dropped by that margin.
He said China's move was primarily motivated by its desire to entering the basket of currencies used to set the value of the International Monetary Fund in-house currency, called Special Drawing Rights. The other currencies are the dollar, the euro, the yen and the British pound.
Lardy characterized the U.S. Treasury's reaction to China's depreciation as "modestly positive" as it waits to see how things evolve and make a definitive judgment. He said congressional criticism was inevitable.
"Some will continue to rail at China whatever happens. That's been the history," he said.