The Minnesota dentist under fire for killing Cecil the Lion on a safari hunt in Zimbabwe was accused of offering $20,000 to cover up his illegal killing of a black bear in Wisconsin in 2006.
According to ABC's "20/20," Walter Palmer had a permit for bear hunting in one county, but not in the one where he ended up actually shooting the animal. It was then that U.S. Attorney John Vaudreuil said he tried to get others with him to lie.
"As soon as the bear was killed, Palmer and the three guys he was with — guides — they agreed they would lie about it," Vaudreuil told "20/20," which also obtained photos from the Wisconsin Department of Fish and Wildlife of the bear hunt.
Pictures that #WalterPalmer tried to cover up http://t.co/upRNa620dk #BlackBear pic.twitter.com/GKb5d6WYOc

— VanderpumpSupport (@Vanderpumped) August 14, 2015
Pictures that #WalterPalmer tried to cover up http://t.co/upRNa620dk #BlackBear pic.twitter.com/GKb5d6WYOc

— VanderpumpSupport (@Vanderpumped) August 14, 2015
"He was offering to pay, it turns out, about $20,000 to keep the others who were in the hunt, to have them lie, so that's a fairly aggressive cover-up," Vaudreuil added.
WEAU-TV offered more details on the case, which went to court in 2008 and has been touched upon in the weeks after his killing of the protected lion:
The members of the group, including Palmer, agreed that if any authorities were to ask where the bear had been killed, they would say it had been killed off Taylor Lake Road south of Minong, a location in Subzone A1.

Palmer and others transported the bear carcass to a registration station in Subzone A1. At the registration station, Palmer filed a Bear Registration Stub, falsely certifying that the bear had been killed in Subzone A1. Palmer later caused the bear carcass to be transported from Wisconsin to Minnesota.

On October 15, 2006, and again on October 25, 2006, a special agent of the U.S. Fish & Wildlife Service interviewed Palmer. In those interviews Palmer falsely stated that he believed he had shot the bear off Taylor Road, and that he thought the bear had been killed legally.
Palmer originally faced up a maximum penalty of five years in prison, but ended up pleading guilty to false statement charges and was sentenced to one year probation and paid a $2,938 fine.
After killing the collared lion that was tracked for research, officials in Zimbabwe said they're seeking the extradition of Palmer, alleging he lacked authorization to kill Cecil last month. Palmer, who paid $50,000 for the hunt, according to the National Parks and Wildlife Management Authority, said he relied on professional guides to ensure his hunting was legal.
Robert Mugabe says Zimbabweans are to blame for Cecil the lion's death http://t.co/HunTNQvZGz

— TIME.com (@TIME) August 10, 2015
Palmer ended up closing his dentistry practice as a result of the backlash and animal rights activists took it one step further, asking the Minnesota Board of Dentistry to investigate the dentist who killed a protected lion in Zimbabwe.
The Animal Legal Defense Fund says it filed a complaint Wednesday alleging that Walter Palmer brought disrepute to Minnesota's dental profession and should have his license revoked.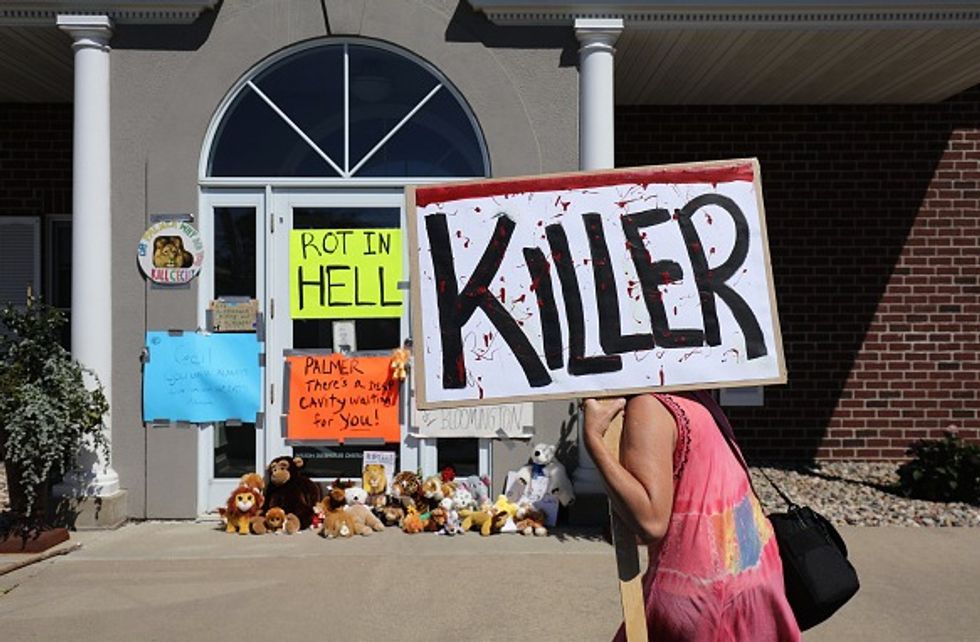 Protesters call attention to the alleged poaching of Cecil the lion, in the parking lot of Dr. Walter Palmer's River Bluff Dental Clinic on July 29, 2015 in Bloomington, Minnesota. According to reports, the 13-year-old lion was lured out of a national park in Zimbabwe and killed by Dr. Palmer, who had paid at least $50,000 for the hunt. (Adam Bettcher/Getty Images)
In Minnesota, anyone can file complaints to the dentistry board alleging unbecoming conduct. Details about investigations don't become public unless the board takes corrective action.
Earlier this week, vandals targeted Palmer's vacation home in southwest Florida, painting the words "lion killer" on the garage door.
Marco Island police Capt. David Baer said the vandals also left at least seven pickled pigs' feet on the driveway of Walter Palmer's $1.1 million home. Baer said police have opened an investigation.
A hand-made sign criticizing Palmer was left in the yard last week. A security company has been hired to protect the property.
—
The Associated Press contributed to this report.