If former Secretary of State Hillary Clinton had top secret information on her private email server, there is no shortage of precedent under the current administration indicating what could happen.
The most common frame of reference — the case of former CIA Director David Petraeus — is far from the only example of the Obama administration prosecuting government officials — typically lower and midlevel government officials — for mishandling classified information under provisions of the Espionage Act, which can carry sentences of up to 10 years imprisonment for the most serious offenses, though generally involve fines.
"It is on them to demonstrate they are above partisanship [by taking a hard look at Clinton],"  Matthew Whitaker, the former U.S. attorney for the Southern District of Iowa, told TheBlaze.  "This administration has been very aggressive about prosecuting classified information cases."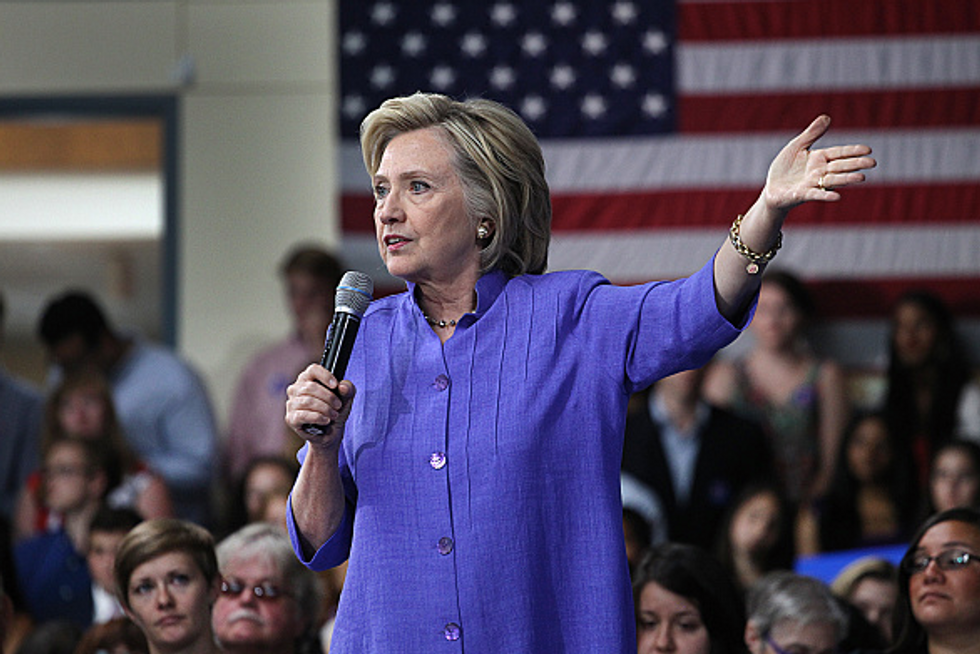 Hillary Clinton at a town meeting event at Exeter High School in Exeter, N.H., Aug. 10, 2015. (Photo by Suzanne Kreiter/The Boston Globe via Getty Images)
Just last month, Bryan Nishimura, a California Naval reservist, was sentenced to two years' probation and a $7,500 fine after he pleaded guilty to removing classified material and downloading it to a personal electronic device. The FBI found no evidence he planned to distribute the material.
Last year, Bronze Star recipient and combat veteran Chief Petty Officer Lyle White pleaded guilty to storing classified documents on a nonsecure hard drive in Virginia. He received a suspended 60-day sentence and a suspended $10,000 fine in return for the plea. White said the information was for training purposes to study and that he had no intent to communicate with anyone.
Whitaker, now the executive director of the Foundation for Accountability and Civic Trust, a government watchdog group, cited three federal statutes Clinton could potentially be in violation of, though he stressed that the FBI still needs to investigate. He referred to a recent Fox News report that someone may have removed the classification label from the documents as the most serious offense.
Violation of 18 U.S. Code § 798 — disclosure of classified information could apply to someone who "knowingly and willfully communicates, furnishes, transmits, or otherwise makes available to an unauthorized person" classified information. Someone guilty of this crime "shall be fined under this title or imprisoned not more than ten years, or both," under the law.
Anther law, 18 USC 793 — gathering, transmitting or losing defense information also carries a penalty of an unspecified fine or imprisonment of up to 10 years, or both.
Both 793 and 798 fall under the broader 1917 Espionage Act.
Separately, another potential charge dealing with removing the classification label could be 18 U.S. Code § 2071 — concealment, removal or mutilation generally of classified information. Under this statute, a guilty person "shall be fined under this title or imprisoned not more than three years, or both; and shall forfeit his office and be disqualified from holding any office under the United States."
Each of these statutes reference using the obtained material to assist a foreign entity, which would carry the most severe sentences, and which there has been no allegation that Clinton engaged in.
Clinton presidential campaign communications director Jennifer Palemieri earlier this week sent an email seeking to reassure supporters.
"Hillary didn't send any classified materials over email: Hillary only used her personal account for unclassified email," Palemieri said in the message. "No information in her emails was marked classified at the time she sent or received them. She viewed classified materials in hard copy in her office or via other secure means while traveling, not on email."
Two of the emails that were on Clinton's private server have been deemed "top secret" by an auditor, one which is reported to deal with a U.S. drone operation.
The inspector general for the 17 intelligence agencies informed Congress this week that two of 40 emails sampled out of some 30,000 were deemed "top secret/sensitive compartmented information," one of the government's highest levels of classification. The administration has prosecuted cases for classified information that was not top secret.
Petraeus, who pleaded guilty on a misdemeanor charge of mishandling classified information, received no jail time but paid a $100,000 fine. The retired general admitted he shared his schedule and personal notes from his time in charge of operations in Afghanistan with his biographer and mistress, Paula Broadwell.
"The only factual difference with the Petraeus case is that he allowed access knowingly to someone who did not have clearance,"  Whitaker said.  "Secretary Clinton possibly turned over or left classified information in an unsecure email server. Legally, there is not a meaningful difference."
But if Clinton didn't in fact know that any of the information was classified, it would make a difference, Whitaker said.
"It's a tougher case and would be much harder to say she has culpability for mishandling," Whitaker said. "There are standards about known or should-have-known, but previously such matter has been handled in a different matter if the person did not know the information was classified."
However, it would seem unlikely that Clinton did not know if the information was classified even if it wasn't marked, said Jim Hanson, executive vice president of the Center for Security Policy, a national security think tank.
That is because every government official that has a security clearance is trained in identifying classified information, said Hanson, a former Army Special Forces sergeant and former cybersecurity executive. In Clinton's case, she should have had separate levels of training as secretary of state, a U.S. senator, and as first lady, he added.
"One thing we do know she did and that is communicate official government documents on a server the government doesn't own," Hanson told TheBlaze. "That would in most cases be a disqualification from ever holding a security clearance. If she did that with classified information, it is a 100-percent certainty she would be disqualified from holding a security clearance."
As for any permanently deleted emails from her private server, Hanson believes the FBI could still recover those messages.
"If they are deleted emails, nearly all of those emails were sent from or to another server, in most cases a government server," he said. "A good cyberforensics investigation would be able to get the other server backups."
Politifact has certified the statement as true that the Obama administration has used the 1917 Espionage Act more than all previous presidents combined to prosecute leak cases.
The highest-profile case has probably been against fugitive leader Edward Snowden, who revealed the National Security Agency data gathering.
Two prominent examples happened in 2010 when State Department contractor Stephen Kim was indicted for providing information to Fox News about North Korea. Obama's Justice Department also indicted CIA employee Jeffrey Sterling for providing Iran information to the New York Times that year
Another leak prosecution was against NSA employee Tom Drake for leaking information to the Baltimore Sun about what he considered mismanagement at the agency.
Members of Congress have asked President Barack Obama to intervene in the case of Marine Maj. Jason Brezler, saying he has suffered "unlawful retaliation" for blowing the whistle about a corrupt Afghan policeman in 2012, sending a classified document over email in the process. The Marine reservist faces being discharged.