Glenn Beck said on his radio program Monday that he's "at an impasse" with conservatives who support or think highly of Republican presidential candidate Donald Trump, specifically citing Sean Hannity, Ann Coulter, Michael Savage and Rush Limbaugh.
Beck had just read Hannity's response to his "honest question" about why so many conservatives seem to be supporting Trump, and came to the conclusion that while others may accept Trump's explanation for his shifting political views, he does not.
Beck reminded his audience of policies that Trump once supported, from abortion to a wealth tax, saying he doesn't accept Trump's answers for why he holds different beliefs now.
"Why they feel the way they do is, they accept his answers. I don't. So I guess we're at an impasse," Beck remarked. "If you're a person that accepts those answers, I just ask that people would say, 'Why didn't I accept these same kind of answers from Barack Obama?'"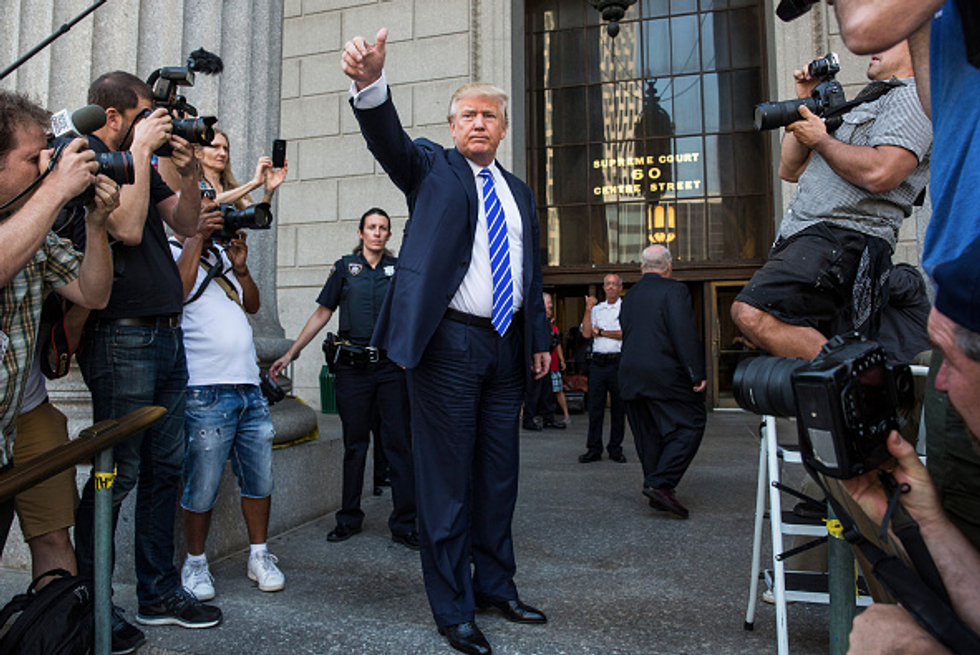 NEW YORK, NY - AUGUST 17: Republican Presidential hopeful Donald Trump gives the thumbs up as he arrives at U.S. Federal Court to report for jury duty on August 17, 2015 in New York City. Trump spent the last few days on the campaign trail at the Iowa state fair before returning to New York to perform the civic duty. (Photo by Andrew Burton/Getty Images)
"Yeah," Beck's co-host Pat Gray agreed. "And why a lot of the same people who were all caught up in the fact that Mitt Romney had changed on a couple of issues don't care at all about Donald Trump changing on every issue."
"I believe it is because of the swagger," Beck speculated. "And this I like about Donald Trump. ... I love the fact that he's not listening to advisers. But I think that's what people are really zeroed in on. He doesn't care. And we are a society where everybody bows and says, 'Oh, no, no. We have to do this.'"
Beck said it's "refreshing" to see somebody who doesn't apologize or bow to the media, but he's still concerned about what Trump actually believes.
"He'll get it done because he doesn't care," Beck said, summarizing Trump's attitude. "Well may I just point out, we have a president now who do not care what you or anyone else says. As I have said from the beginning ... you don't want to give anyone this kind of power because if it swings back the other way, gang ... are you going to like the things he decides to do?"
The full episode of The Glenn Beck Program, along with many other live-streaming shows and thousands of hours of on-demand content, is available on just about any digital device. Click here to watch every Glenn Beck episode from the past 30 days for just $1!