Prominent Jewish-American musician Matisyahu has opened up being ejected from a music festival over his refusal to make a public statement supporting a boycott of Israel.
After two days of silence about his exclusion from the Rotator Sunsplash Reggae Festival in Spain, Matisyahu wrote on Facebook that he had been asked to write a letter or make a video "stating my positions on Zionism and the Israeli-Palestinian conflict to pacify the BDS people," referring to the boycott, divestment and sanctions movement against Israel.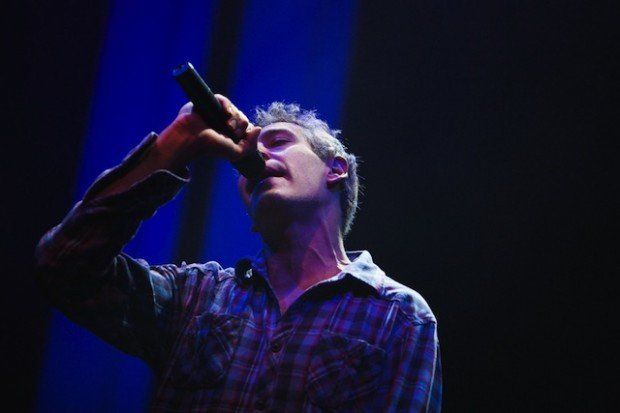 Matisyahu performing in Moscow in December 2014. (Photo credit: Shutterstock/hurricanehank)
"I support peace and compassion for all people. My music speaks for itself, and I do not insert politics into my music," Matisyahu wrote, adding, "Music has the power to transcend the intellect, ideas, and politics, and it can unite people in the process."
But he said festival organizers "kept insisting that I clarify my personal views; which felt like clear pressure to agree with the BDS political agenda."
"Honestly it was appalling and offensive, that as the one publicly Jewish-American artist scheduled for the festival they were trying to coerce me into political statements," Matisyahu wrote. "Were any of the other artists scheduled to perform asked to make political statements in order to perform? No artist deserves to be put in such a situation simply to perform his or her art. Regardless of race, creed, country, cultural background, etc, my goal is to play music for all people. As musicians that is what we seek."
The festival directors also posted a new statement accusing Israel of "incredible violence" and Matisyahu of not opening dialogue with them to resolve the issue.
"We did not say NO to Matisyahu because he has hebrew roots or as a Zionist, but we just simply considered inappropriate organizing something that would certainly generate a conflict, without any possibility of dialogue," the Rototom organizers wrote on Facebook. "Sadly, after days of disillusion, we realized this concert would have brought only disagreement, incomprehension, intolerance and intransigence. And we decided to cancel it."
The U.S. Anti-Defamation League Monday called Matisyahu's exclusion "a clear case of anti-Semitic discrimination."
"Was a Jewish musician singled out, based on his religion, to undergo a political litmus test?" ADL National Director Jonathan Greenblatt said. "Was he then denied the opportunity to perform for reasons completely unrelated to his musical talents? This appears to be a clear case of anti-Semitic discrimination - which is illegal in Spain - and we expect Spain to uphold its non-discrimination laws."
One of Matisyahu's most popular songs is the 2009 ode to peace, "One Day."
Earlier in his career, Matisyahu was a practicing Hassidic Jew including wearing full facial hair, sidelocks and head covering at all times, including during performances.