A World War II veteran's prayer book has been returned to his family more than seven decades later.
Pennsylvania resident Patricia DeFinis said she was "shocked" to receive the prayer book that her late husband, Anthony DeFinis, kept while serving in Japan during World War II. DeFinis was stationed in New Zealand after the war ended but eventually moved back to the U.S, WPVI-TV reported.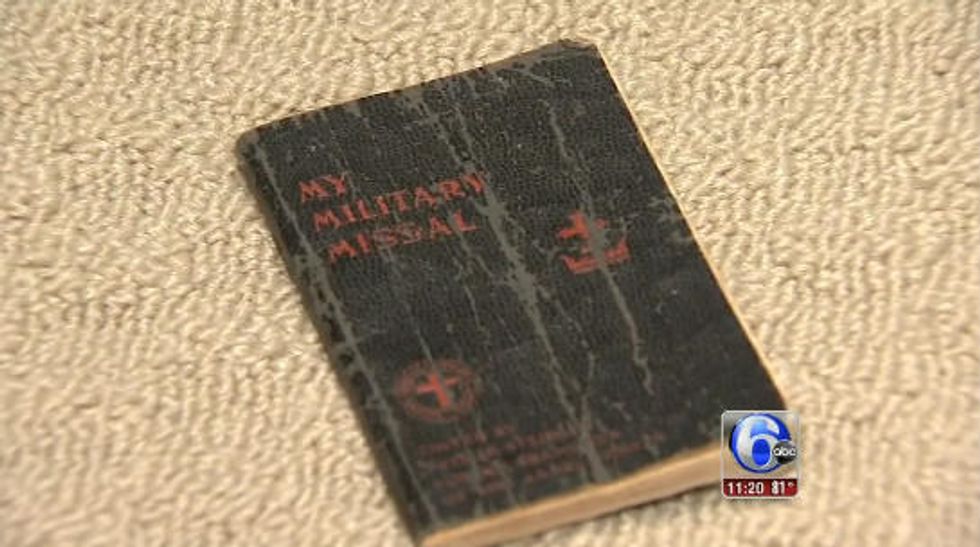 Image source: WPVI-TV
Seventy years later, a military family in New Zealand found the serviceman's journal, with DeFinis' handwritten name and military serial number in the front. The family wanted to trace down the original owner's family but, given the magnitude of the task, they requested help from the U.S. Embassy.
Today, DeFinis' prayer log is back with his family in Newtown, Pennsylvania, thousands of miles away from where the young soldier served in Okinawa, Japan.
[sharequote align="center"]"It's like he's saying, 'I'm good, I'm fine.'"[/sharequote]
"I'm totally amazed. I think it's fantastic that those people would hold onto to it for so long. To me, it's almost like a miracle," DeFinis told WPVI-TV.
"It gives you a warm feeling to hold it and just to know he had it in his possession; it's like he's saying, 'I'm good, I'm fine,'" she said.
(H/T: WPVI-TV)
–
Follow Jon Street (@JonStreet) on Twitter