Two bicyclists appeared unharmed after getting seemingly showered by debris from two trucks that collided on a highway in Russia.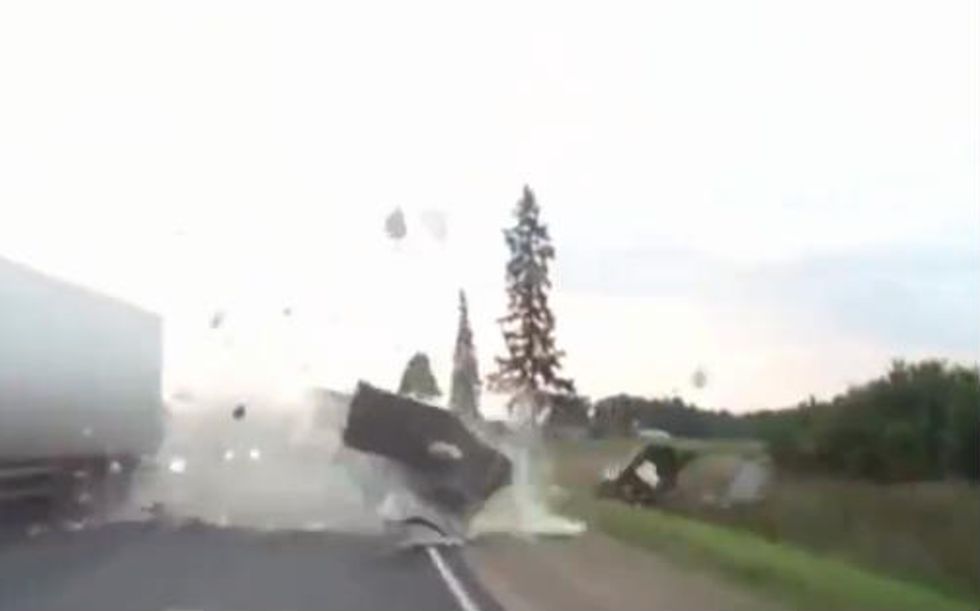 Image source: LiveLeak
The incredible video was posted to LiveLeak over the weekend. The footage shows two people riding bikes along the side of a highway in Kirov Oblast, Russia, about 500 miles northeast of Moscow.
The truck driver beside them appeared to try to pass the truck ahead but suddenly swerved back toward the cyclists after seeing an oncoming truck. But it wasn't enough time to avoid a near head-on collision that resulted in an explosion of debris from the passing truck.
The two individuals on the bikes didn't appear to be harmed as larger pieces of the trucks and their trailers flew farther away from them. Amazingly, both cyclists appear to walk away from the horrific incident.
It's unclear when the video was captured and has not been independently verified -- but it's an amazing piece of footage regardless.
Watch the footage:
(H/T: Huffington Post)
–
Follow Jon Street (@JonStreet) on Twitter