Common Core. "What's that?" former Florida Gov. Jeb Bush joked Wednesday.
Appearing at an education summit in New Hampshire, Bush and fellow Republican presidential contender Ohio Gov. John Kasich were both asked about their support for the controversial K-12 standards.
Kasich took a blunter tone than Bush, saying they were "pretty good" and "I'm not going to change my position because there are four people in the front row yelling at me."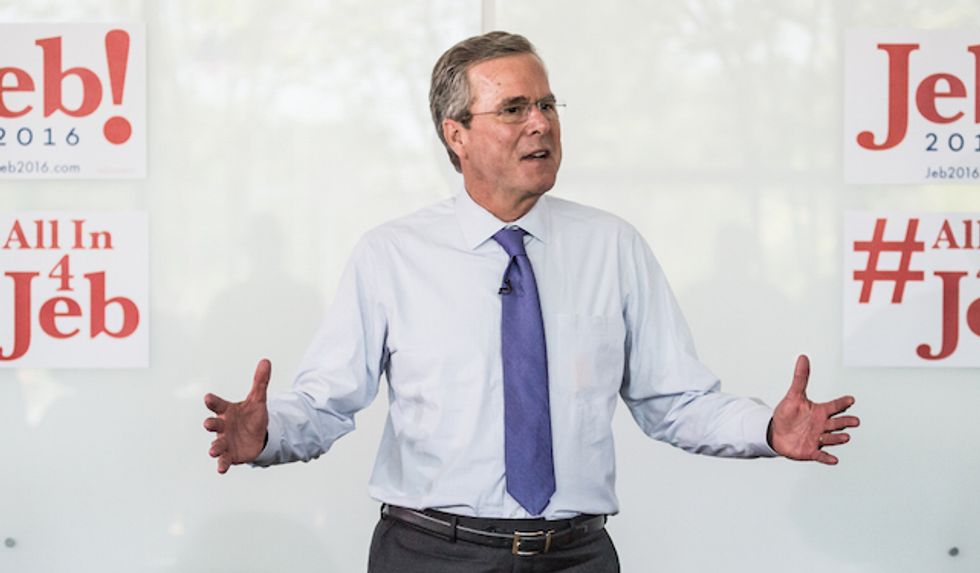 Sean Rayford/Getty Images
Common Core was the only point of division among the candidates at the summit in Manchester, New Hampshire, sponsored by the Seventy Four, a nonprofit education news site that derives its name from 74 million children in schools.
Most candidates were likeminded on school choice, local control and more accountability as the primary means of education reform.
Of the 17 Republican presidential candidates, only Bush and Kasich have stood by their support for Common Core.
The contenders were being interviewed at the forum by former CNN journalist Campbell Brown, who asked Kasich about other candidates who had flip-flopped regarding their support of Common Core. New Jersey Gov. Chris Christie and former Arkansas Gov. Mike Huckabee previously supported Common Core, but have since become critics.
"Once I know the facts, then I'm going to make up my mind and be the best leader I can be, but none of this finger in the air stuff for me," Kasich said. "I'm not putting anyone else down. Everybody has to lead the way they want to lead or do it the way they want to do it. I'm just telling you the way I do it."
"I don't write the standards. President Obama doesn't write the standards," Kasich said. "The bottom line is we have higher standards with school boards writing the higher standards with parental involvement. I think that's pretty good.
Kasich reservedly addressed some in the audience who didn't approve of what he was saying.
"I'm not going to change my position because there are four people in the front row yelling at me. I just don't operate that way," he said.
Bush was significantly less aggressive in his defense after his initial "what's that?" quip.
"The federal government should have nothing to say with this," Bush said. "The commonality is not as relevant as the highness of them."
Bush went on to add: "If people don't like Common Core, fine — just make sure your standards are much higher than the ones you had before. We can't keep dumbing down standards."
Former Hewlett-Packard CEO Carly Fiorina disagreed with the other candidates argument that Common Core is not a federal program.
"The states adopted it on their own and they were incentivized to do so because money flowed with it," Fiorina said. "That's a heck of a choice: You do it our way and you get the money you desperately need. You don't do it our way, you don't get the money you desperately need. It sounds like a bit of a racket to me."
Common Core was developed by the National Governors Association and the Council of Chief State School Officers. The Obama administration's Department of Education has tied its "Race to the Top" school grants to states that have adopted the standards.
"Common Core may have started out as a set of standards, but what it has turned into is a program that, honestly, is being overly influenced by companies that have something to gain, testing companies and textbook companies," Fiorina said. "It's becoming a set of standards not on what a kid has to learn but instead on how a teacher has to teach. That kind of standardization is going to drive achievement down, not up."
Wisconsin Gov. Scott Walker, when pressed on why he backed Common Core before, but now opposes it, explained that he talked with parents throughout the state.
"Part of my concerns after talking to folks is that this was taking decisions away from folks at the local level," Walker said.
Louisiana Gov. Bobby Jindal, who has sued the federal government, said he opposed a "one-size-fits-all" approach from Washington.
New Jersey Gov. Chris Chrstie said he gave Common Core four years to work, but found teachers, students and parents hated it.
"I have a thinking, operating brain. If something doesn't work, I change it," Christie said.