Gazing into someone's eyes might be considered a loving act, but doing so too long could cause hallucinations, according to a new study.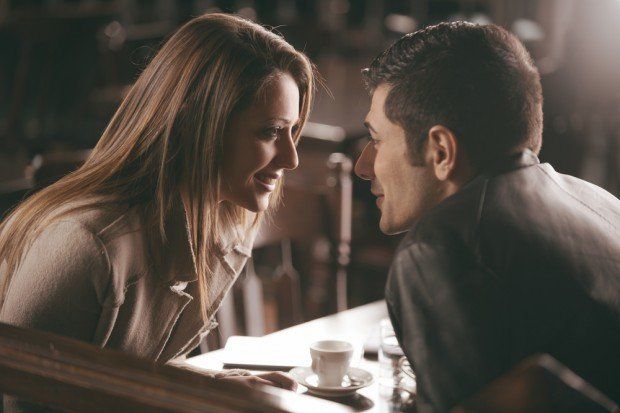 Photo credit: Shutterstock
Research based on a small study published by Giovanni Caputo of the University of Urbino in Italy described how study participants who stared into each other's eyes in a dimly lit room for 10 minutes started to experience "dissociative symptoms, dysmorphic face perceptions and hallucination-like strange-face apparitions."
Research Digest, the blog for the British Psychological Society, has more on the study's findings:
The participants in the eye-staring group said they'd had a compelling experience unlike anything they'd felt before. They also scored higher on all three questionnaires than the control group. On the dissociative states test, they gave the strongest ratings to items related to reduced colour intensity, sounds seeming quieter or louder than expected, becoming spaced out, and time seeming to drag on. On the strange-face questionnaire, 90 per cent of the eye-staring group agreed that they'd seen some deformed facial traits, 75 per cent said they'd seen a monster, 50 per cent said they saw aspects of their own face in their partner's face, and 15 per cent said they'd seen a relative's face.
Though Research Digest noted some possible flaws in the study's methodology, it stated that "staring into another person's eyes might be the most effective dissociation-inducing exercise yet."
Another study by Caputo published a few years ago involved a similar experiment where participants stared at themselves in a mirror in a dimly lit room. This experiment also yeilded results where participants saw monsters or experienced "otherness" in the room.
Scientific American at the time described why this might happen:
Troxler fading and neural adaptation may partly explain Caputo's strange-face illusion. As we gaze long and steady into our reflected face, the unchanging nature of the visual stimulus causes facial features to disappear and then reappear, as we blink or make involuntary eye movements, thereby "refreshing" our neuronal responses. In the absence of visual information, our brain will "fill in" the gaps according to our experiences, expectations, best guesses, and even hardwired neural mechanisms involved in shape and face perception. The result can be amusing or disquieting.
Watch this video to get a sense of how the illusion of Troxler fading works:
(H/T: Daily Mail)
—
Front page image via Shutterstock.