Despite her repeated insistence that she never sent or received any email marked "classified" on her private server, Hillary Clinton would have signed a nondisclosure agreement as secretary of state specifying that she understood what information is classified, regardless of whether it is "marked or unmarked," national security experts told TheBlaze.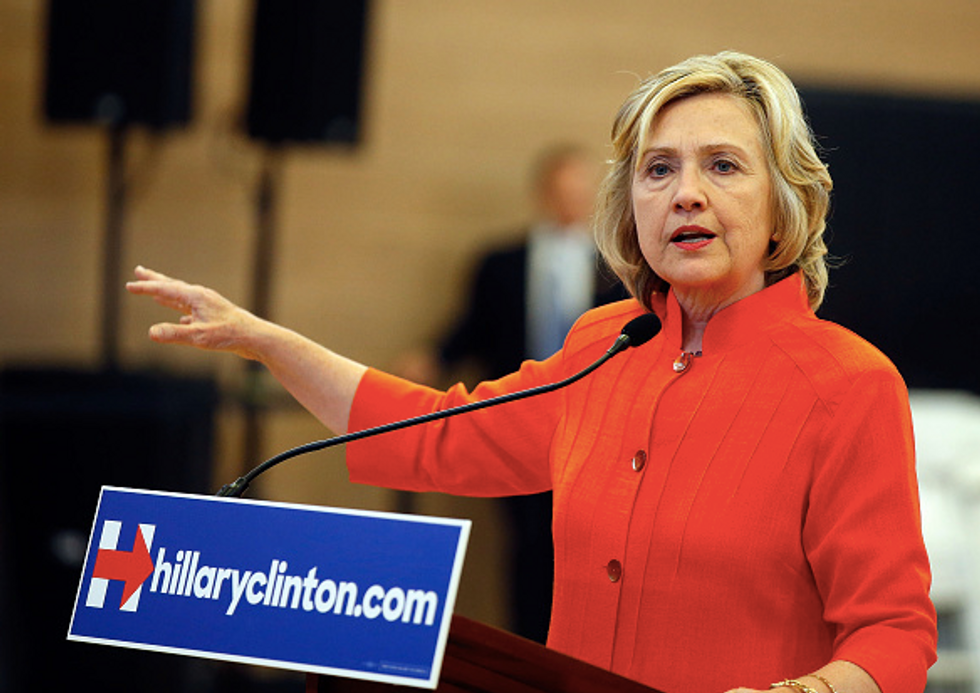 Democratic presidential candidate and former Secretary of State Hillary Clinton answers questions from reporters following a campaign stop at Dr. William U. Pearson Community Center, Aug. 18, 2015 in North Las Vegas, Nevada.(Photo by Isaac Brekken/Getty Images)
That's because every federal employee, including cabinet secretaries, with access to classified information must sign such a document.
"There is no way anyone would have access to classified information without signing a nondisclosure agreement," said Jim Hanson, a former U.S. Army Special Forces sergeant and former cybersecurity executive.
The two-page agreement is known as "standard form 312" and clearly states that the obligation is on the government official to know if the information is classified after being trained on classified information. It begins:
Intending to be legally bound, I hereby accept the obligations contained in this Agreement in consideration of my being granted access to classified information. As used in this Agreement, classified information is marked or unmarked classified information, including oral communications, that is classified under the standards of Executive Order 13526, or under any other Executive order or statute that prohibits the unauthorized disclosure of information in the interest of national security; and unclassified information that meets the standards for classification and is in the process of a classification determination as provided in sections 1.1, 1.2, 1.3 and 1.4(e) of Executive Order 13526, or under any other Executive order or statute that requires protection for such information in the interest of national security. I understand and accept that by being granted access to classified information, special confidence and trust shall be placed in me by the United States Government.
It goes on to state, "I hereby acknowledge that I have received a security indoctrination concerning the nature and protection of classified information," and that "I have read this Agreement carefully and my questions, if any, have been answered."
"It's the responsibility of the person to know if the information is classified," said Hanson, now the vice president of the Center for Security Policy, a national security think tank. "If she didn't sign a 312, she signed a version of a nondisclosure agreement. If she is indicted, they would lay that document down in front of her and say, 'Is this your signature?'"
Even if a federal official is supposed to know if a document is classified, the agreement includes language for uncertainty: "I understand that if I am uncertain about the classification status of information, I am required to confirm from an authorized official that the information is unclassified before I may disclose it."
For several months, including in an interview Monday, Clinton said, "I never sent nor received any classified email, nothing marked 'classified.'" However, speaking with reporters on Tuesday, the Democratic presidential candidate refused to answer whether she wiped her server clean before providing to the FBI last week.
Neither the Clinton campaign nor the State Department responded to repeated inquiries from TheBlaze as to whether Clinton signed the agreement.
[sharequote align="right"]"They would lay that document down in front of her and say, 'Is this your signature?'"[/sharequote]
The FBI is investigating whether any of the emails on Clinton's private server were classified, which Clinton has denied. The inspector general for the intelligence community has flagged more than 300 emails out of thousands released for containing potentially classified information.
The Clinton campaign has asserted the FBI probe is not a criminal inquiry and that Clinton herself is not a target. Any government official who mishandles classified information could expose themselves to several criminal charges.
A "security indoctrination" is the phrase to describe the training that federal officials go through to understand how to identify classified information.
"It's inconceivable that she could have been indoctrinated and read emails and not have known the information she was putting on a routine, unclassified email server was classified information," said Chris Farrell, who as a former special agent for Army counterintelligence investigated hundreds of government employees who mishandled classified information.
Farrell, now the director of investigations for Judicial Watch, a conservative government watchdog group, said Clinton would have had to sign the agreement, which means she has been through the training.
Federal employees privy to classified information are also given a booklet explaining the agreement.
"By being granted a security clearance, you have met the first of three requirements necessary to have access to classified information," the booklet states. "The second requirement that you must fulfill is to sign a 'Classified Information Nondisclosure Agreement,' the SF 312."
The booklet adds, "The SF 312 is a contractual agreement between the U.S. Government and you, a cleared employee, in which you agree never to disclose classified information to an unauthorized person."
Clinton departed her post as secretary of state in 2013 and only provided her complete private server last week.
The SF 312 agreement states: "I agree that I shall return all classified materials which have, or may come into my possession or for which I am responsible because of such access … upon the conclusion of my employment or other relationship that requires access to classified information."