Islamic State fighters have discussed the possibility of harvesting the organs of their female sex slaves as a means to raise money for their campaign of terror, according to a new report from the Middle East Media Research Institute.
In a review of online conversations between French Islamic State fighters and their supporters, MEMRI researchers found that they discussed not only the cost for different female sex slaves but also the potential for pricing out human organs.
The jihadists referred to the women's organs as "spare parts."
In one conversation last year on Facebook, militants struck a jovial tone while talking about the rape and possible dismemberment of women in Iraq and Syria:
Abu Jihad Al-Munfarid: "$350 for the Yazidi girl in Mosul if you want LOL"

Abu Jusuf Selefie: "I heard there were slaves in Raqqa, is it true?"

Abde-Rahman Bennass: "I saw it was around 180 per slave LOL"

Abou Muhammad: "You have revived a tradition." […]

Abou Jihad: "Yes, I heard brothers say there are some in Raqqa as well" ... "180 dollars must be [the price] for the ugly ones"

Abde-Rahman: "LOL I am laughing so hard."

Shinobi: "LOL And how much is it in spare parts? Check and see if you can get kidneys or livers there is a demand."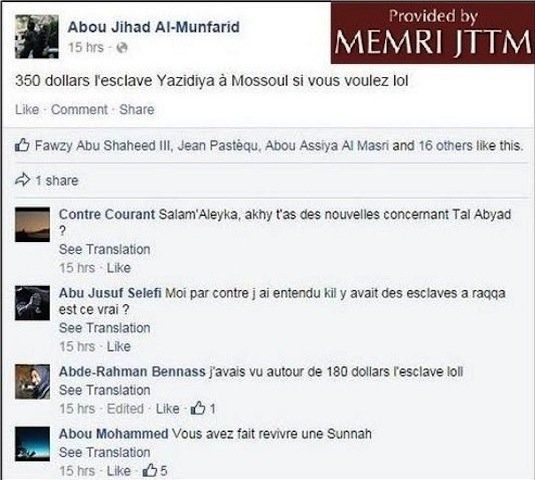 The Middle East Media Research Institute captured part of the Facebook exchange. (Image source: MEMRI)
The Iraqi ambassador to the United Nations asked the U.N. Security Council in February to investigate allegations that the Islamic State group was harvesting organs to fund its activities.
Ambassador Mohamed Alhakim said then that bodies had been found in Iraq with surgical incisions and were missing kidneys and other body parts.
"We have bodies. Come and examine them," he said. "It is clear they are missing certain parts."
He also accused Islamist militants of executing a dozen doctors in Mosul who had refused to harvest organs.
The MEMRI report, "Sex Slavery In The Islamic State – Practices, Social Media Discourse, And Justifications," described ongoing tension between the Islamic State and the Al Qaeda-linked the Nusra Front in Syria over the issue of sex slaves.
The Nusra Front has accused its Islamic State rivals of kidnapping the wives of Nusra Front members as sex slaves. The Islamic State denies the allegation.
MEMRI said that based on social media conversations, it appears the Nusra Front, unlike the Islamic State, opposes sex slavery based on Islamic religious precepts. Nusra Front members have asserted that non-Muslim women should not be taken as sex slaves, because it could prompt the group's enemies to take their women as slaves.
A U.N. official earlier this month confirmed the authenticity of a document listing the prices of Yazidi and Christian sex slaves, ranging from $40 to $170, based on the age of the girls. The New York Times last week detailed how Islamic State fighters use their faith to justify the rape of women and girls.