Former President Jimmy Carter says he has cancer in his brain.
Carter, 90, said melanoma discovered during liver surgery has spread to four spots on his brain. Speaking at a press conference in Atlanta Thursday morning, Carter said he will be receiving his first radiation treatment later in the day.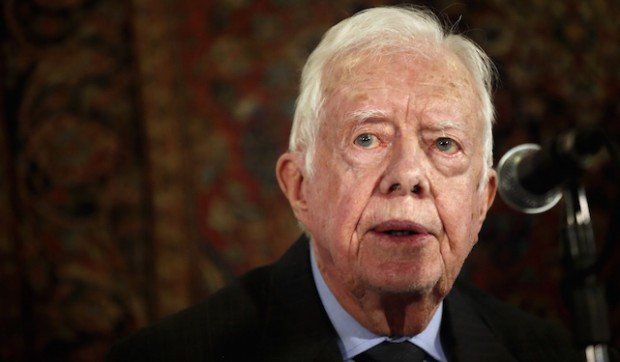 Thomas Coex/AFP/Getty Images
In a frank discussion with reporters, Carter said he is "in the hands of God" and feels "prepared for anything that comes."
"I'm perfectly at ease with whatever comes. I have deep religious faith," he said. He said he plans to continue to teach Sunday school "for as long as I am physically able."
Carter said that upon learning of his diagnosis, "I thought I had a few weeks left." He said he never thought about not getting treatment.
He says he feels good and hasn't had any weakness or debility. He said the pain "has been very slight."
He said he will "dramatically" cut back on his work at the Carter Center and at Emory University. His grandson, Jason Carter, will become the chairman of the Carter Center's board of trustees.
Carter said President Barack Obama, former Presidents George H.W. Bush, Bill Clinton and George W. Bush have all called with well-wishes.
Carter served as commander in chief from 1977 to 1981. He first revealed the news of his cancer diagnosis last week.
Reflecting on his life and on his post-presidency, Carter called his life after the White House "more satisfying." He has been praised for his work with the Carter Center, Habitat for Humanity and other charities.
Asked about his political accomplishments, he said, "The best thing I did was marry Roslyn."
He was also asked about regrets.
"I wish I had sent one more helicopter to get the hostages," Carter said. "We would have rescued them and I would have been re-elected. But that may have interfered with the foundation of the Carter Center and if I had to choose between serving four more years and the Carter Center, I think I would choose the Carter Center."
Though most of the press conference was apolitical, Carter did delve into a controversial issue about a top priority of the Carter Center.
"In international affairs, I would say peace for Israel and Palestine. That has been a top priority of mine for years," Carter said. "Right now I think the frustrations are more dismal than any time I remember in the last 50 years. The government of Israel has no desire for a two-state solution, which is the policy of all the other nations in the world. The United States has practically no influence in the past years in either Israel or Palestine."
Carter said he has a message for others of hope and acceptance. "Hope for the best and accept what comes."