The long shot Republican-backed House lawsuit that alleged President Barack Obama has abused his executive power is actually causing some problems for the president, a new report claims.
According to the Los Angeles Times, a federal judge is expected to soon decide whether or not to dismiss the suit, but due to an amended complaint and a recent Supreme Court ruling, the ball might be in the Republicans' court. The report said the lawsuit is "turning into a real problem" for the president.
The lawsuit, which all House Democrats opposed during the vote in July, alleges that Obama's aides assumed the power to spend $178 billion over 10 years to reimburse health insurance providers who covered co-payments for low-income people who bought health insurance through the Affordable Care Act. While a request for an annual appropriation was initially submitted, the Los Angeles Times reported that Health and Human Services Secretary Sylvia Mathews Burwell and other officials decided the "cost-sharing payments" to insurers were just like an entitlement built into the law — thus congressional approval was not needed.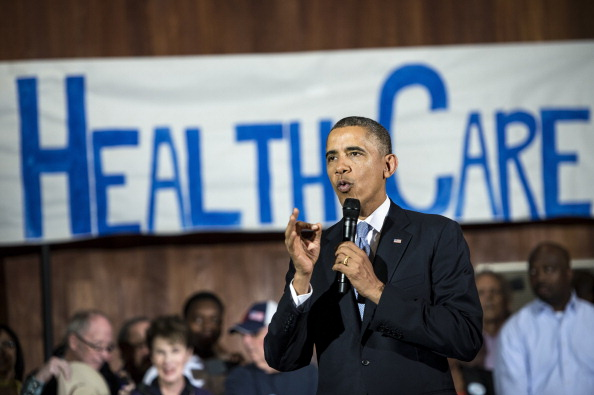 US President Barack Obama speaks at Temple Emanu-El November 6, 2013 in Dallas, Texas. Obama spoke about the Affordable Care Act amid technical problems which have hurt the rollout of the healthcare marketplace. AFP PHOTO/Brendan SMIALOWSKI (Photo credit should read BRENDAN SMIALOWSKI/AFP/Getty Images)
"The power of the purse is the very thumping heart of the legislative function in our system of separation of powers," Jonathan Turley, the George Washington University professor who was hired to lead the lawsuit, told the Los Angeles Times.
Despite Democrats' initial complaints, House Speaker John Boehner has remained adamant that the lawsuit is simply to keep the president and his power in check, not impeach him, according to Fox News.
The Los Angeles Times reported that the outcome of the lawsuit most likely will not result in a dissolution of Obama's healthcare law, but it could drastically raise the cost of insurance premiums.
Despite the hurdles House Republicans face with their lawsuit, experts who have followed the case closely have said it won't be a "slam dunk" for the Obama administration and don't expect it to go away quietly.
Simon Lazarus, a lawyer for the liberal Constitutional Accountability Center, told the Los Angeles Times that there is "at least a possibility of Turley prevailing on the motion to dismiss," but believes the administration will win in the end.
Walter Dellinger, a former Clinton administration lawyer, told the Los Angeles times that he doesn't believe the courts will finally rule on the suit.
"There has never been a lawsuit by a president against Congress or by Congress against the president over how to interpret a statute," the Washington-based lawyer said. 
Read the rest of the Times' report here.