Republican presidential frontrunner Donald Trump takes credit for starting the discussion over illegal immigration, but former Pennsylvania Sen. Rick Santorum said he has been talking about it since announcing his presidential campaign in May.
Further, Santorum said he doesn't want the jobs from building a border fence to go to Mexicans.
"While I won't demand the government of Mexico build a wall, I want U.S. workers to do that by the way, I'll make it clear to the Mexican government that they must stop facilitating the lawlessness on the border and cooperate with our efforts," Santorum said. "I will do all I can do change Mexico's behavior for the benefit of both countries."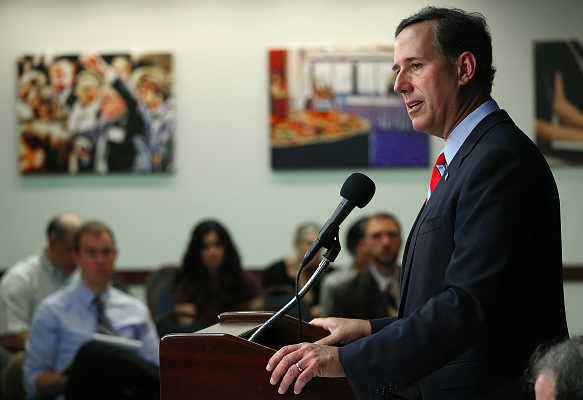 Republican presidential candidate Rick Santorum speaks at the National Press Club, Aug. 20, 2015 in Washington, DC. (Win McNamee/Getty Images)
Santorum outlined his immigration plan Thursday at the National Press Club in Washington, stressing that the focus would be to help the American worker, noting that legal and illegal immigration combined is at a 105-year high.
Trump has made immigration the centerpiece of his presidential campaign in his surge to the top of the polls. What has gotten the most attention is his vow to make the government of Mexico pay for building a wall along the U.S.-Mexican border.
"I'm for Americans building the wall, not Mexico," Santorum said. "I'm not going to make Mexico pay for the wall. What I want Mexico to do is really cooperate in stopping the inflow of immigrants and instability at the border. Let's be very clear, immigration into America is big business for Mexico. The estimates are $22 billion a year flow from people here in this country into Mexico for people to provide a lot of economic support for people in that country. There is certainly every indication that Mexico is doing next to nothing, in fact some argue they are working to facilitate people coming into this country and doing so illegally."
Santorum also said his plan would require E-Verify by employers, roll back President Barack Obama's executive actions not to deport many illegal immigrants, eliminate the visa lottery and chain migration. He would allow a limited guest worker program in the agriculture industry for illegal immigrants.
Santorum, who is running in the back of the pack, contrasted himself with the frontrunner. Santorum is quick to point out he polled at the bottom in the months leading to the 2012 Republican primaries before finishing second to eventual nominee Mitt Romney.
Trump has also been criticized for talking about "anchor babies," or children born inside the United States to illegal immigrants.
Santorum said there are 14th Amendment legal arguments on both sides. But, without using the term "anchor babies," he said it is something his administration would look at.
"I will propose we join every other developed country in the world, save one, and put an end to the automatic citizenship of children born here to illegal immigrants," Santorum said.