Jose Antonio Vargas, an outspoken illegal immigrant, was slapped with a hefty tax lien after he failed to pay his taxes in 2010, according to court documents.
Those documents, originally obtained by Red Alert Politics, showed that Vargas owed $41,945.44 in back taxes according to a court notice that was dated January 7, 2015.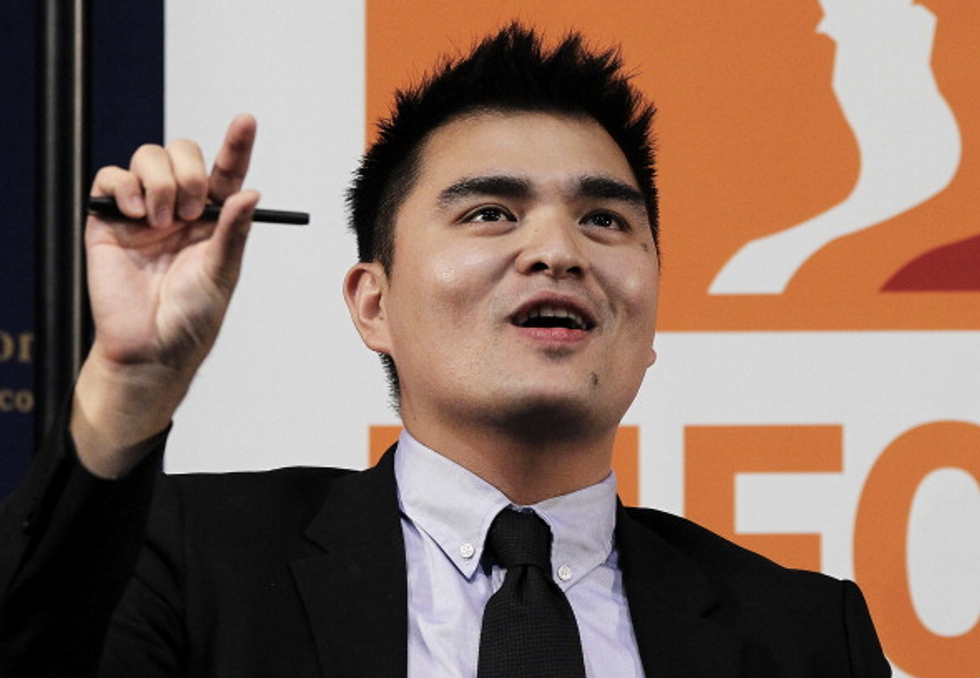 SAN FRANCISCO, CA - JULY 11: Former Washington Post and San Francisco Chronicle reporter Jose Antonio Vargas speaks at the Commonwealth Club of California on July 11, 2011 in San Francisco, California. Vargas, an illegal immigrant who recently came out in an article in the New York Times Magazine, spoke in conversation with Hearst Newspapers Editor at Large Phil Bronstein about his life as an illegal immigrant and how he was able to work for major U.S. newspapers. (Photo by Justin Sullivan/Getty Images)
Vargas, a journalist and immigration reform activist, publicly admitted his citizenship status in an essay in the New York Times in 2010. In a recent Facebook post, Vargas addressed the tax lien and said it stemmed from a "previously unpaid income tax in 2010 — the last year I worked for employers before coming out as undocumented."
Vargas said he stopped using the false Social Security card after he came clean about his immigration status in 2011.
According to Red Alert Politics, Vargas, 34, provided documentation that showed he paid the tax lien in full on February 11, 2015 He has also published a copy of a check made out to the Department of the Treasury to his Facebook page. The check was made out for $48,039.98.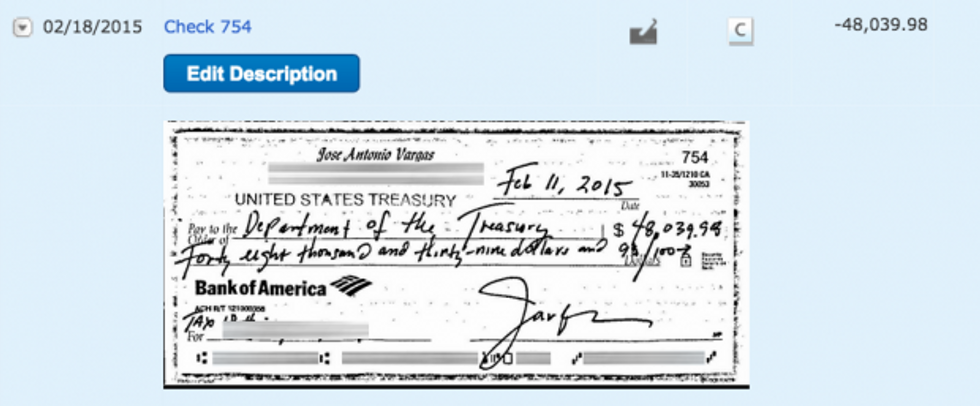 Image via Facebook/Jose Antonio Vargas
Red Alert Politics pointed to the multiple instances in which Vargas had commended himself and other undocumented immigrants for paying taxes and contributing to Social Security funds.
"We may be nonpeople to the TSA but not to the IRS. Undocumented workers pay taxes. I've paid income taxes, state and federal, since I started working at 18. The IRS doesn't care if I'm here legally; it cares about its money. Some undocumented people, of course, circumvent the system, just like some citizens," Vargas said in a Time cover story in 2012.
"We also pay into Social Security. Even as many of us contribute, we cannot avail ourselves of a great deal of the services those tax dollars pay for," Vargas continued.
"Those against the undocumented population say that we don't pay taxes, but this check for nearly $50,000 is just a pebble in the mountain of proof to the contrary — undocumented immigrants living in the U.S. already collectively pay nearly $12 billion in state and local taxes each year, and an estimated $1.5 trillion would be added to the U.S. GDP over a decade by legalizing the undocumented population," Vargas wrote in his Facebook post Thursday afternoon.
"People say these about undocumented immigrants: 'You are moochers.' 'You are a burden to society.' 'You don't contribute,'" Vargas wrote in a separate post on Friday. "Then, after immigrants like me show proof that we are, indeed, paying billions in taxes and contributing billions to Social Security, people say: 'It doesn't matter--you're a criminal.'"
Vargas did not respond to a request for comment in time for publication from TheBlaze.