The classified document that a Marine reservist sent out as a warning is pending declassification by President Barack Obama, which could make the military's case against Maj. Jason Brezler almost moot, his attorney told TheBlaze.
Brezler is seeking whistleblower protection after informing government investigators that he sent a warning from a classified document to Marines at a base in Afghanistan about a corrupt Afghan police chief that posed a potential threat. The warning went unheeded, and three Marines were ultimately murdered.
"There are very many good reasons why the secretary of the Navy should act to keep Brezler in the corps, but a presidential finding that the document he emailed on July 24, 2012 was over-classified would be yet another," attorney Kevin Carroll said. "The Department of Justice guidelines make it clear that if official material is later declassified, no one should then be punished for having allegedly mishandled it."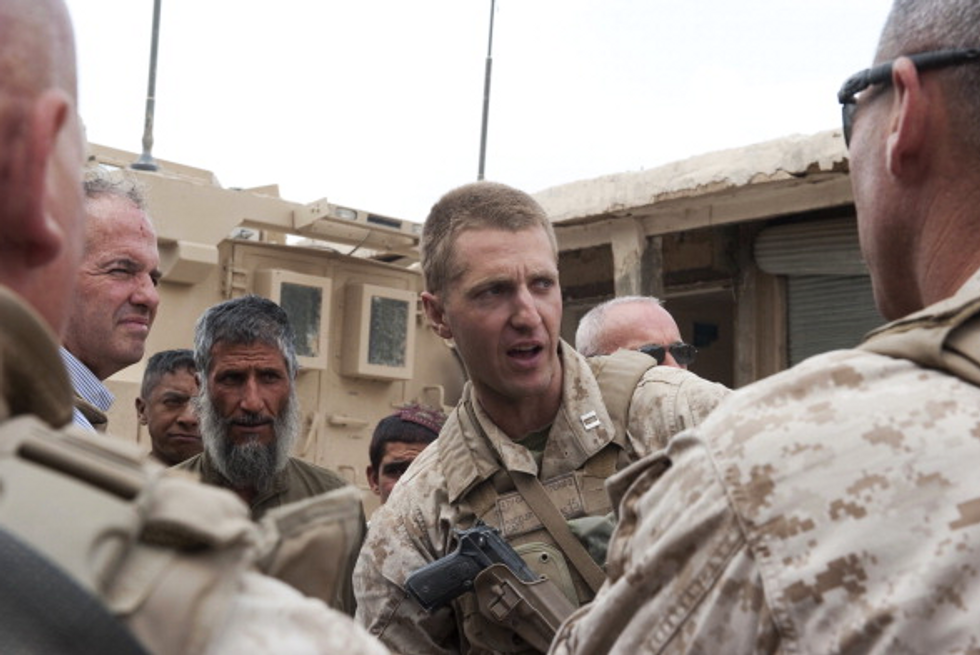 Maj. Jason Brezler in Afghanistan on May 7, 2010. Brezler is facing a possible discharge after emailing classified documents. (Photo by Monique Jaques/ Getty Images)
Reps. Mike Coffman (R-Colo.), a member of the House Armed Services Committee, and Peter King (R-N.Y.), a member of the House Permanent Select Committee on Intelligence, asked in a November 2014 letter to the Public Interest Declassification Board that it recommend to the president that the document be declassified. The board reviewed Coffman and King's request and made a formal recommendation to the president earlier this year, PIDB Executive Secretary John P. Fitzpatrick told TheBlaze.
Fitzpatrick said he is not at liberty to say what the recommendation was, due to the deliberative nature of the process.
"Now it is up to the president to consider and act on the board's recommendation." Fitzpatrick said.
The White House declined to comment on the case because it is still pending.
The case of Brezler, who advocates say is facing punishment for acting in a urgent situation, has prompted some media comparisons to the FBI investigation into the potential mishandling of classified information on former Secretary of State Hillary Clinton's private email server, where investigators now say hundreds of emails might have contained potentially classified information. The case also underscores a pattern of alleged whistleblower retaliation within the Obama administration.
The fate of Brezler's military career lies with Navy Secretary Ray Mabus, after a Marine Board of Inquiry recommended the major be separated for sending a single attached classified document over his personal email. Brezler works full-time as a New York City firefighter and has been deployed by the Marines four times since 2002.
"This is an American hero who we should be honoring rather than defending his honor," Rep. Dan Donovan (R-N.Y.) told TheBlaze. "Because he is such an American hero, he self-reported that he sent the document on an unsecure account. If he hadn't self-reported, I'm not sure anybody would have known."
Brezler sent the email on July 24, 2012 in response to an urgent request for information from fellow Marines in Afghanistan's Helmand province regarding background on Afghan police chief Sarwar Jan, who was frequently on the base during the training of local security officials. Brezler's attorney said after he was informed the information was classified, he reported himself within "minutes" to superiors.
The information Brezler sent to the Afghanistan base indicated that Jan was a threat to both children and the soldiers. However, Brezler's message was ignored and an alleged child sex abuse victim of the police chief shot and killed three Marines in Afghanistan — Scott Dickinson, Richard Rivera and Greg Buckley — on Aug. 10, 2012.
After the Marines were killed, Brezler spoke to members of Congress and the Department of Justice, according to the inspector general for the Department of Defense.
Five days after the public disclosure of his talks to Congress and the Justice Department, and one day after contacting the DOD inspector general, Marine superiors referred Brezler to the Board of Inquiry, which went on to recommend his separation from the Marine Corps,  as Coffman and Brezler's attorney explained the sequence of events.
"The major reported his actions as soon as possible. [His case and Clinton's email server] couldn't be more different scenarios," Donovan said. "The secretary of state is still defending her actions. Our soldiers are not always fully equipped with computers to store information and have to use their own sometimes. A secretary of state does not have to use her own equipment to store information."
Carroll, Brezler's attorney, declined to weigh in directly on the Clinton matter.
"I have no view of what is happening with Hillary Clinton," he said. "I would say that Jason has fully cooperated with law enforcement right away. They asked to come into his home and he pointed them to the computer."
Outside of the military justice, the matter is being litigated as a First Amendment lawsuit for punishing the major for communicating with members of Congress and investigators. The federal court date in the Eastern District of New York is set for Sept. 21.
Marine Corps spokesman First Lt. Philip J. Kulczewski declined to comment on the pending decision by the Navy secretary, but said, "The Marine Corps maintains confidence in the legal and administrative processes that have occurred to date."
In July, New York Republican Reps. Donovan, King, Christopher Gibson and Tom Reed wrote a letter to Obama seeking an investigation of the matter outside the Pentagon.
Donovan said the DOD probe is "tainted" now.
While there has been no formal response to the letter, Donovan said White House officials have been in touch with him and the other members of Congress. But he said those discussions were in confidence at this point.
King said the administration should clear Brezler.
"Jason Breezier did the right thing and exercised his legal right to speak to Congress, the Justice Department and an inspector general about very serious crimes, rape and murder," King said in a statement to TheBlaze. "At this point it now appears he is the victim of illegal whistleblower retaliation from some Marine generals for making protected communications. I hope the Secretary of the Navy does the right thing here, too, and exercises his discretion to keep Brezler in the corps."