A private security guard has died after a suspect walked into a federal building in lower Manhattan and shot the guard in the head, law enforcement officials have said.
The suspect, who was reportedly a 68-year-old man from New Jersey, turned the gun on himself after shooting the guard. Law enforcement officials confirmed to WNBC-TV that he has also died.
Police identified the guard as 53-year-old Idrissa Camara. Camara died shortly after 5 p.m. WNBC reported that Camara's shift ended at 4 p.m., but FJC Security Services, his employer, said he had stayed later Friday afternoon for an extra shift.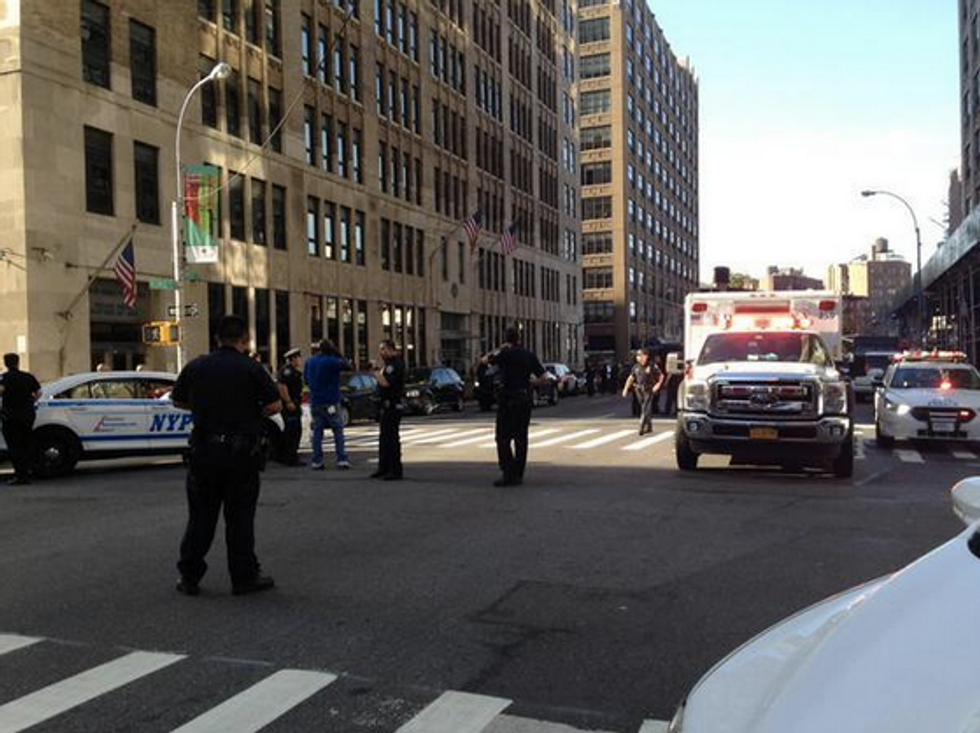 Image via Twitter @NYScanner
Police identified the suspect as Kevin Downing, a veteran who was a former employee of the Bureau of Labor Statistics. Downing also collected Veteran Affairs Benefits. He appeared to have acted alone.
"We don't know what his target was," James O'Neill, chief of the New York Police Department, said.
The motive for the shooting is still unclear, but so far it appears to have been a random killing. Downing did not have a criminal record, according to the New York Times.
Police said they found two firearms at the scene.
A relative of Downing's said he served in the 1960s where he was stationed in Europe. He was discharged with distinction. That relative, who spoke on the condition of anonymity, told WNBC that Downing lived alone with no children. He did have a fiancee, but she died of cancer a few years ago.
Downing was once a realtor, the relative said, but his home was in foreclosure. He was also hit by a car in a crosswalk in the past two years.
"He's had tough few years," the relative said.
The 12-story building where the shooting occurred includes branch offices for the Department of Justice and Department of Labor, a post office, environmental office and an immigration court. 
"[Camara was] an extraordinary senior guard who was well trained, cared deeply about his job and knew that building better than anyone else," FJC said in a statement. "It's clear from the facts that he never had a chance to defend himself in this instance."
WNBC reported that Secretary of Homeland Security Jeh Johnson went to the federal building Friday night.
"I intend to express my condolences to his family if I have the opportunity to do so," he said. "I wanted to be here because this is a federal building, and check in on our employees here and be with those employees in the face of this tragedy."
U/D Manhattan: 201 Varick St @NYPD1Pct federal agent & 1 perp shot Perp in custody. Active crime scene.#Breaking pic.twitter.com/WExvjbOvdt

— NYC Scanner (@NYScanner) August 21, 2015
U/D Manhattan: 201 Varick St Perp who shot & seriously injured a security officer has died off his wounds after killing himself. #Breaking

— NYC Scanner (@NYScanner) August 21, 2015
U/D Manhattan: 201 Varick St Security officer has died after being shot by a suspect in federal building. #BREAKING

— NYC Scanner (@NYScanner) August 21, 2015
shooting at 201 Varick st nyc pic.twitter.com/yoj1RX9266

— Josh Ridley (@thejoshridley) August 21, 2015
#nycshooting #varick there may have been a shooting -dozens of police/helicopters no traffic being allowed through pic.twitter.com/Lnc9iWRHPU

— Joel (@joeltalks) August 21, 2015
This story has been updated to include additional information about the security guard and the suspected shooter.