As two female soldiers become the first women to wear the black-and-gold Ranger tab at their graduation from the Army's Ranger School, one of their male comrades has a message to anyone who might be calling their accomplishment into question.
In a post on the military news website SOFREP, Rudy Mac, a company-grade infantry officer who also completed Ranger School this year, gave his firsthand take of how First Lt. Shaye Haver of Copperas Cove, Texas, and Capt. Kristen Griest of Orange, Connecticut, "f*****g earned it."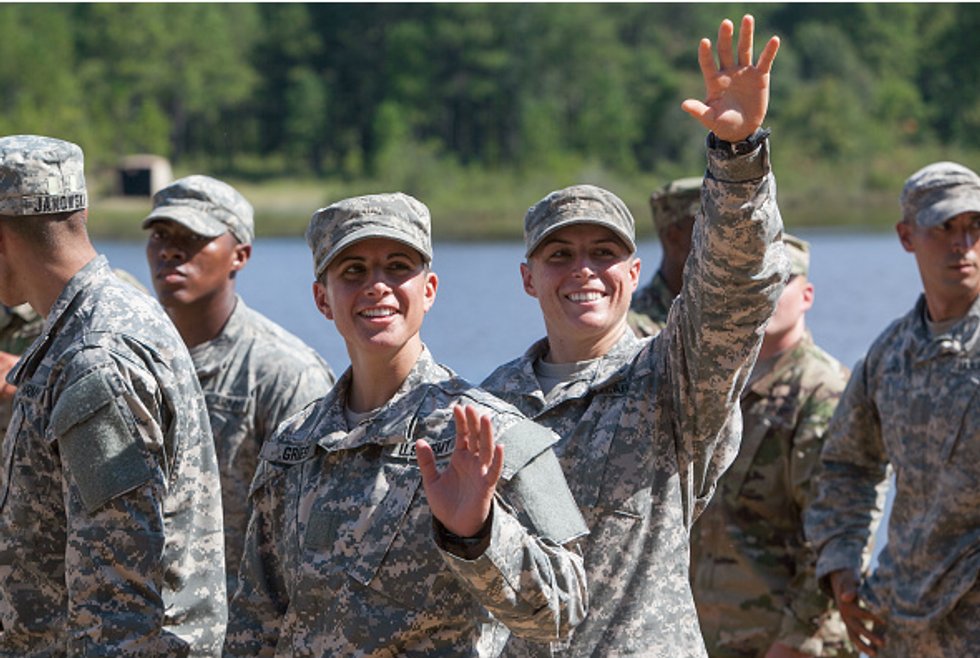 Capt. Kristen Griest, left, and First Lt. Shaye Haver wave to friends and family gathered during the graduation ceremony of the United States Army's Ranger School, Aug. 21, 2015 at Fort Benning, Ga. Griest and Haver are the first women ever to successfully complete the Army's Ranger School. (Photo by Jessica McGowan/Getty Images)
"Since my graduation, I have followed the progress of these remaining female Rangers with interest," he continued. "Although virtually all of the discussion I have heard surrounding their advancement through the course has been pretty positive up to this week, since the Washington Post broke the story of Ranger Griest and Ranger Haver getting their go's in Florida, I have read and heard an increasing amount of bad-mouthing from a plethora of haters, dismissing their accomplishment as the product of slipping standards or some ultra-liberal, feminist plot by the government and Army leadership. I am speaking out to tell you that these insinuations could not be further from the truth. Ranger School is still hard, and these women earned their tabs."
Mac then got into some of the numbers: Out of 138 attempts by female soldiers to pass the Ranger Training Assessment Course, only 20 passed. In April, 19 female and 381 male students started Ranger School, described by the Army as "one of the toughest training courses for which a soldier can volunteer."
Eight of the female soldiers passed the Ranger Assessment Phase Week, where more than half of all Ranger students typically wash out. None of the female soldiers passed the Darby Phase in June, and were dropped or recycled into the July class when they could try again. Still, no females passed. Finally, three women went in with the class in August; two passed, and the rest is history.
"Unlike many, I didn't doubt that some female soldiers in our Army would at least have a decent shot at getting their tabs," Mac wrote. "There are a whole lot of female collegiate, professional, and Olympic athletes who can PT a whole lot better than me, so why shouldn't they be able to at least come close to passing a course like Ranger School? Like many, however, I was somewhat skeptical that the cadre at RTB could successfully administer a course with extremely close living quarters and significant field time like Ranger School without compromising the integrity of the training."
And yet, Mac said, he quickly found that "the gender issue was a non-issue." The female students just slept a little ways apart in the barracks, with lockers forming a barrier to quickly change behind. As for using the restroom, "the women simply walked past the men and used the stalls."
"After the first real smoke session of the week on day one, nobody cared much about using the same latrine," he wrote. "We were all just Ranger students."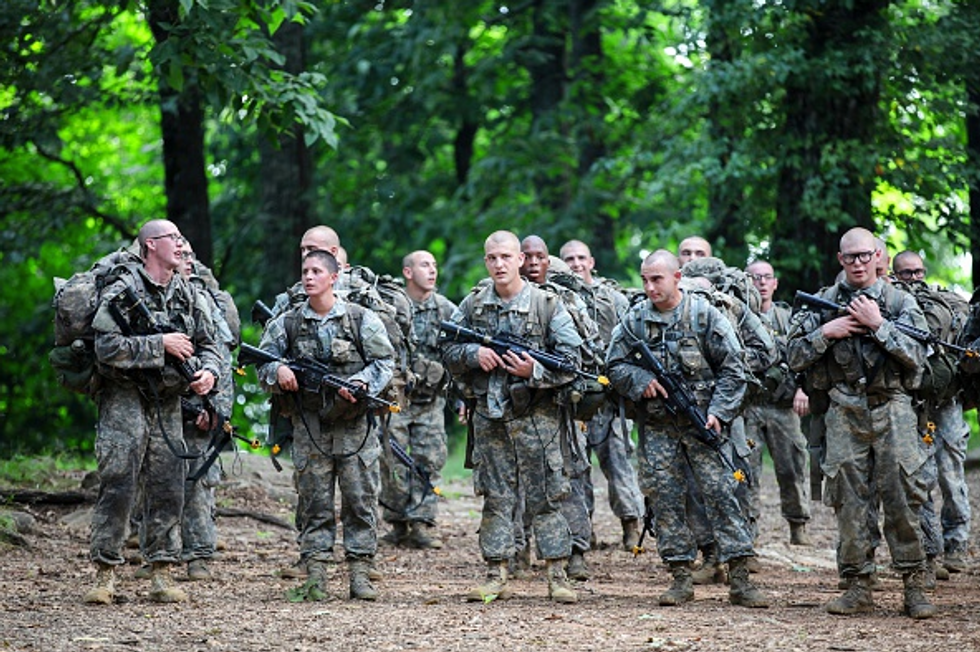 U.S. Army Capt. Kristen Griest, second left, takes part in mountaineering training during the at the U.S. Army Ranger School on Mount Yonah, July 14, 2015 in Cleveland, Ga. (Photo by Yvette Zabala-Garriga/U.S. Army via Getty Images)
Once it was on to the Darby Phase after the initial Ranger Assessment Phase week, "the female students in our company dispelled any doubts of their ability to hump weight on patrols during the first few days in the field," Mac wrote. "If I remember correctly, Ranger Griest carried the M240 for her squad on day one of patrols and another female in her squad carried the radio as the RTO. The next day of patrols, they switched, with Ranger Griest humping the radio and the other female student carrying the M240. Physically, they were studs. They carried their own weight and then some."
Mac graduated from Ranger School two months ago, and said the topic of the female soldiers has been a constant topic of discussion among fellow Rangers as the women continued to make their way through the course.
"We are universally in awe of what these two female Rangers have accomplished. Everyone I have talked to is of one mind. They earned it. Without the same wide shoulders, large frames, and high testosterone levels of their brother Rangers, they earned it," he wrote.