An Ohio public elementary school is apologizing over a fourth-grade homework assignment it says was "insensitive and developmentally inappropriate."
A fourth-grade parent at North Avondale Montessori Elementary School in Cincinatti posted to Facebook a picture of her daughter's recent homework assignment, which included references to "liquor" and "food stamps," WLWT-TV reported.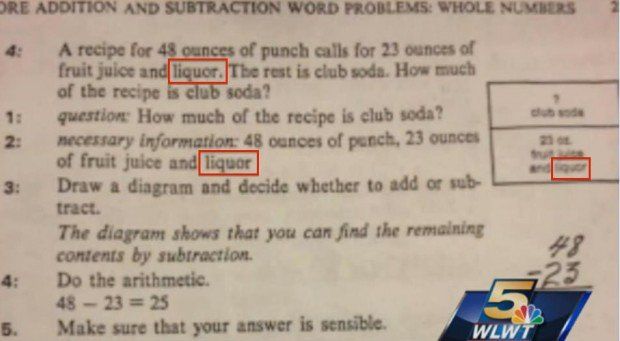 Image source: Facebook via WLWT-TV
One question begins, "A recipe for 48 ounces of punch calls for 23 ounces of fruit juice and liquor. The rest is club soda. How much of the recipe is club soda?"
"This matter was brought to the district's attention late today, and we are looking into it," Cincinatti Public Schools said in a statement issued on Thursday. "While the investigation is continuing, it does appear that a test with inappropriate questions was sent home by a teacher at North Avondale Montessori without the knowledge and approval of the school leadership and district."
The district called the assignment "insensitive and developmentally inappropriate" and said it "runs counter to the values of NAM and Cincinnati Public Schools, where we celebrate the diversity of our families and respect differences in backgrounds and beliefs."
According to WLWT, the parent wrote on Facebook that she met with her child's teacher and suggested that he replace the words, to which he agreed.
Still, the parent said she's not sure the discussion resolved anything, but added "at least this teacher is aware that parents do pay attention to their kids' assignments."
The school is reportedly considering possible disciplinary action; a district representative did not immediately respond to a request for comment from TheBlaze to confirm whether that is true.
(H/T: WLWT-TV)
–
Follow Jon Street (@JonStreet) on Twitter