Pastor Steven Brody rallied with people in the Dallas area Saturday afternoon to speak out against Planned Parenthood, especially in black communities.
Brody said it's not a coincidence that the second-largest abortion facility in Texas is located in a black community. The largest Planned Parenthood in Houston, Brody said, is in between a black community and a Hispanic community.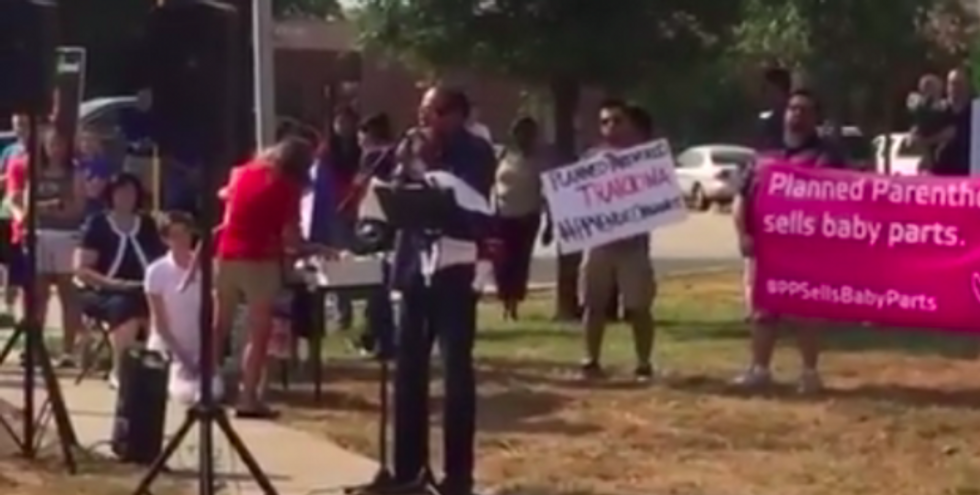 Image via Facebook/Glenn Beck
"Let me share with you a couple of facts that you need to know," Brody said. "That Planned Parenthood has 80 percent of its organizations are established within the black community. Men and women, you are standing in a black community right now. Do you think it's an accident that the second-largest abortuary in the state of Texas is located here?"
Brody spoke to the crowd in Texas as people convened across the country for what has been called #ProtestPP, a national day of protests against Planned Parenthood. The protests were organized due in part to the series of recently released undercover videos that allegedly show Planned Parenthood officials participating in the sale of aborted fetal tissue.
"Eighty percent of their organizations are located in the black community, but here is the ugly, horrifying fact," he said. "That this Planned Parenthood facility ... is located right smack-dab in the middle of the seventh-largest black churches in the metroplex."
Brody then named off the black churches in the area, including Bishop T.D. Jakes' church, and asked, "where are they?"
Multiple anti-abortion protests occurred throughout the country on Saturday — including Raleigh, North Carolina; Orlando, Florida; Falls Church, Virginia; New Orleans, Louisiana and New York City.
@protestppaz Great turnout in Chandler, AZ #ProtestPP #ProtestPPaz pic.twitter.com/Rd6jYhk938

— Deborah Geesling (@deborahgeesling) August 22, 2015
Protesters rallying outside of #Houston #plannedparenthood pic.twitter.com/4my1zjvPyp

— Damali Keith (@DamaliFox26) August 22, 2015
Protest at Planned Parenthood in Falls Church, VA. pic.twitter.com/w0z3mxkDbb

— Mollie (@MZHemingway) August 22, 2015
Thousands here to say "Please Stop" at #PlannedParenthood in St. Paul. pic.twitter.com/3i2Ddtjp2K

— Jonathan Parnell (@jonathanparnell) August 22, 2015
Planned Parenthood protest in Hackensack, NJ. The crowd got bigger than this as time went on. #DefundPP #ProtestPP pic.twitter.com/Q8xAXFnkt6

— Adiel Corchado (@itsadiel) August 22, 2015
Several hundred here in Raleigh to #ProtestPP #DefundPlannedParenthood @MZHemingway pic.twitter.com/VuYZRFvaSt

— Stephen B. Wiley (@swiley15) August 22, 2015