Sexually suggestive signs draped over an off-campus house at Old Dominion University ignited outrage over the weekend and left at least one fraternity suspended.
As parents dropped their children off at the Virginia college, signs that read "Rowdy and fun, hope your baby girl is ready for a good time," "Freshman Daughter Drop Off" and "Go ahead and Drop Off Mom Too" were displayed at the house greeting them.
Classy signs at Old Dominion University in Norfolk. http://t.co/o1epKVyC6i http://t.co/M9EiiM11Jb

— Mary Beth Gahan (@Mary Beth Gahan) 1440342615.0
The signs were immediately condemned by the university and a probe has since been launched.
"I am outraged about the offensive message directed toward women that was visible for a time on 43rd Street. Our students, campus community and alumni have been offended," university president John R. Broderick said in a statement.
"While we constantly educate students, faculty and staff about sexual assault and sexual harassment, this incident confirms our collective efforts are still failing to register with some," he added.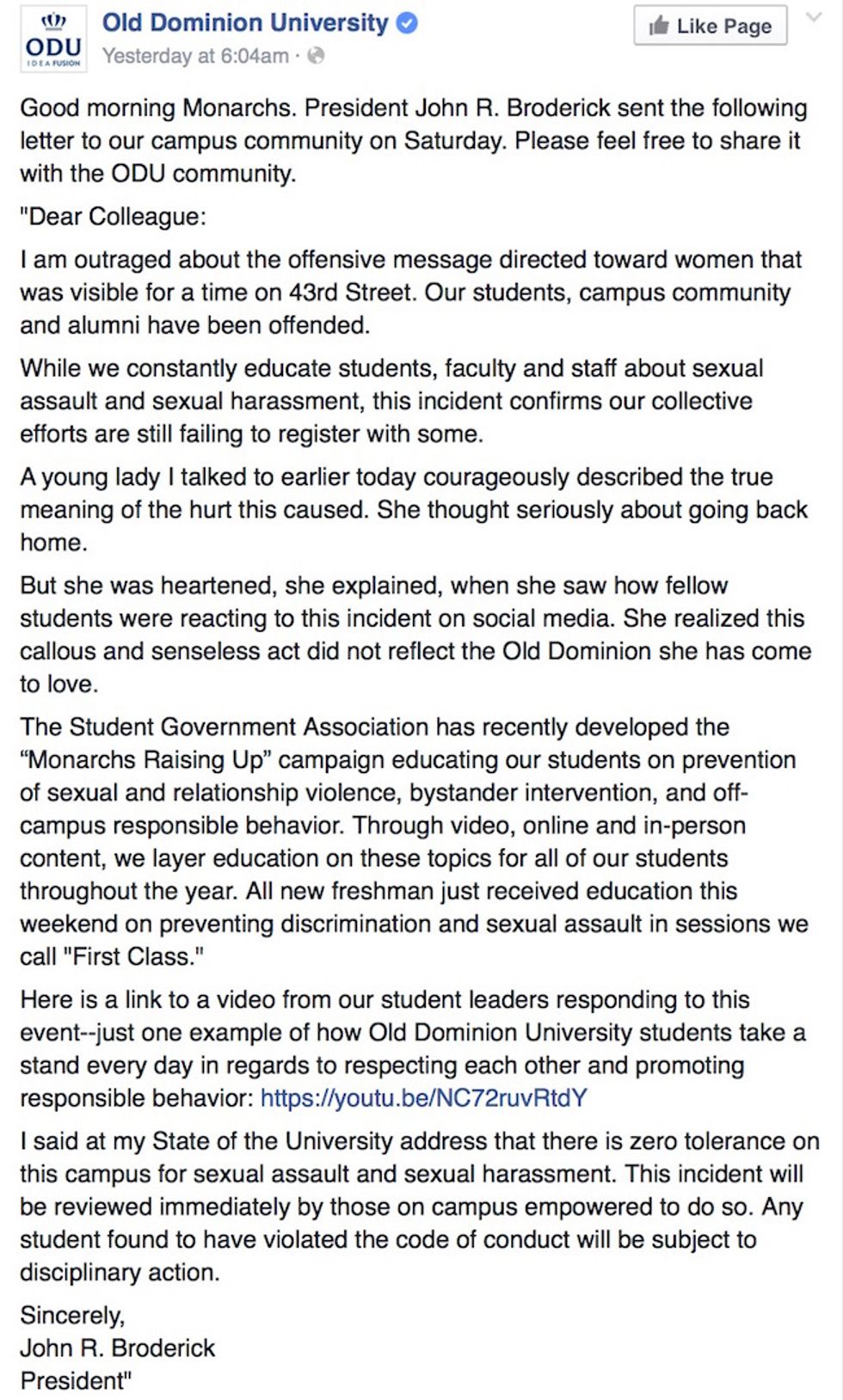 Image source: Screen grab
It wasn't immediately clear who the home belonged to, but Jezebel reported that members of the Sigma Nu fraternity live there. As the school investigates the incident, that chapter has been suspended by the national organization.
"Any fraternity member found to be responsible for this reprehensible display will be held accountable by the fraternity," Brad Beacham, Sigma Nu's executive director, said in a statement.
The university's student government association also released a statement and video condemning the signs.
"An incident occurred this weekend that does not reflect the University's commitment to the prevention of Sexual Assault and Dating Violence. Not only do these actions taken by a few individuals undermine the countless efforts at Old Dominion University to prevent sexual assault, they are also unwelcoming, offensive, and unacceptable," the statement said.
–
Follow the author of this story on Twitter and Facebook: