PARIS (AP) -- A French prosecutor says the suspect in the attack on a high-speed train had watched a jihadi video onboard just before the attack.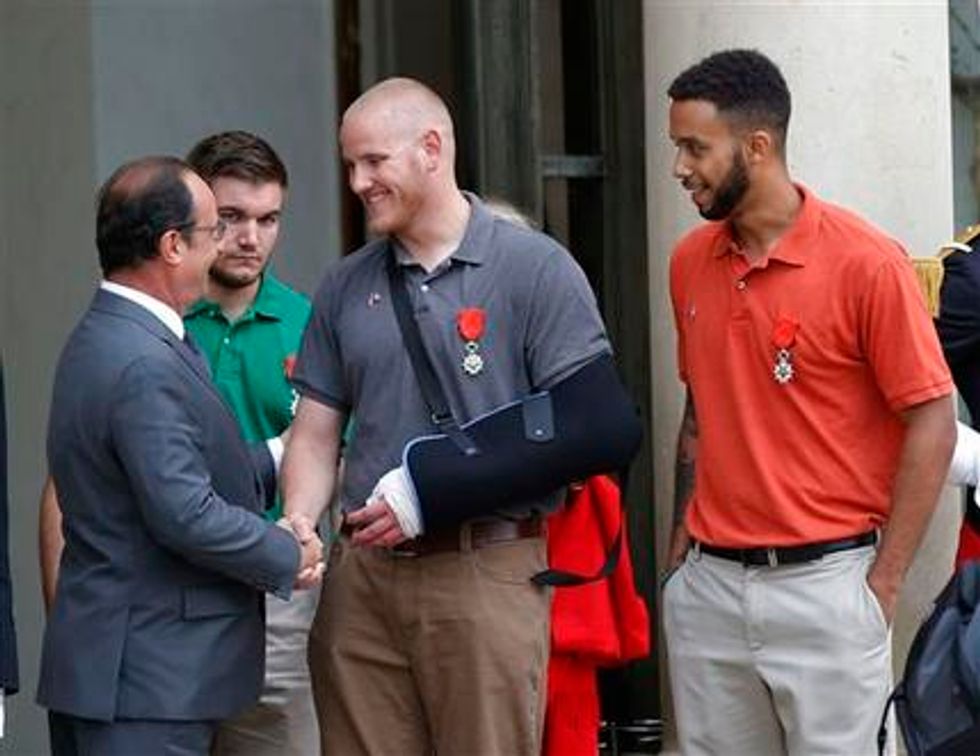 French President Francois Hollande bids farewell to U.S. Airman Spencer Stone as U.S. National Guardsman Alek Skarlatos of Roseburg, Ore., second from left, and Anthony Sadler, a senior at Sacramento State University in California, right, look on at the Elysee Palace in Paris, France, after Hollande awarded them with the French Legion of Honor on Monday, Aug. 24, 2015. The three American travelers say they relied on gut instinct and a close bond forged over years of friendship as they took down a heavily armed man on a passenger train speeding through Belgium on Friday, Aug. 21. (AP Photo/Michel Euler)
Prosecutor Francois Molins says 26-year-old Moroccan suspect Ayoub El-Khazzani had used his phone to watch the YouTube video.
Molins, speaking at a live news conference in Paris on Tuesday, said that the content of the video was of "Islamic preaching" and urged violent acts.
Authorities say that they found the suspect's phone in a bag left in the train.
The Paris prosecutor's office says authorities are formally opening a judicial investigation into terror-related acts after the thwarted attack.
---