Republican presidential candidate Donald Trump's new campaign co-chair hasn't always been a fan of the billionaire real estate mogul.
Sam Clovis was the Iowa chairman for former Texas Gov. Rick Perry's presidential campaign before being named as Trump's national co-chairman, somewhat of a surprise given the two candidates' recent sparring in which Perry called Trump a "cancer on conservatism."
According to leaked emails obtained by the Des Moines Register, Clovis and Perry's views on Trump were very similar up until just recently. The emails, sent by Clovis while he was still working as Perry's Iowa chair, show that he questioned Trump's religious faith and conservative values.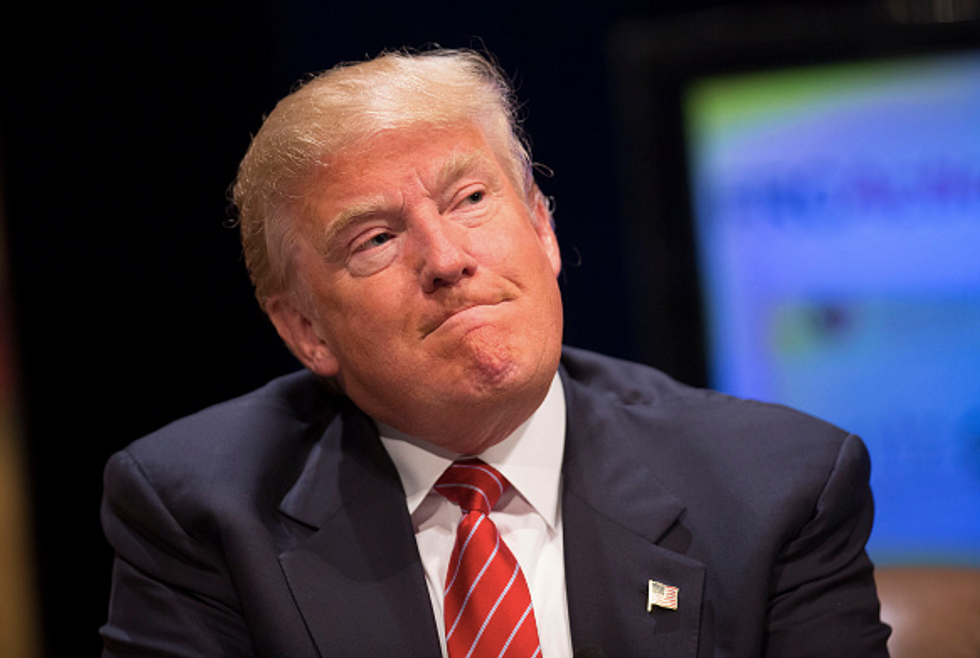 Donald Trump appears at the Family Leadership Summit in Ames, Iowa, July 18, 2015. (Daniel Acker/Bloomberg via Getty Images)
"Mr. Trump's remarks were insulting to me as a veteran and as a person whose family sacrificed for 25 years as I 'missed anniversaries, birthdays, holidays, Christmases and Easters," Clovis wrote in one email, the Raw Story reported.
Clovis was responding to Trump's remark last month that Sen. John McCain is only considered a war hero "because he was captured."
"[Trump's] comments were offensive and people responded accordingly. I was offended by a man who sought and gained four student deferments to avoid the draft and who has never served this nation a day — not a day — in any fashion or way," the former Perry staffer continued.
Clovis also called into question Trump's religious faith and morals, writing "[Trump] left me with questions about his moral center and his foundational beliefs. His comments reveal no foundation in Christ, which is a big deal."
"Why should I not be suspicious of someone who cannot come to say that he believes in God, that he has never asked for forgiveness and that communion is simply wine and a cracker," he added.
Clovis began working for the Trump campaign on Monday, just days after news reports surfaced that Perry's campaign was having financial problems. He confirmed to the Des Moines Register on Wednesday that he sent the emails
Clovis told the Register that he asked Trump about the issues and was "satisfied with his answers." He refused to go into specifics.
"I was recruited and hired because of my skills and my abilities," Clovis said. "I'm an employee of the campaign. I'm not going to talk about how much money I'm getting paid — it's just not going to happen."
(H/T: Raw Story)
–
Follow Jon Street (@JonStreet) on Twitter