President Barack Obama warned Republicans in Congress against threatening a government shutdown after returning from their break in September – at which point they will have a month to pass a new federal budget.
"Let's not introduce unrelated partisan issues," Obama said Thursday in New Orleans, where he spoke to commemorate the 10th anniversary of Hurricane Katrina. "Nobody gets to hold the American economy hostage over their own ideological demands."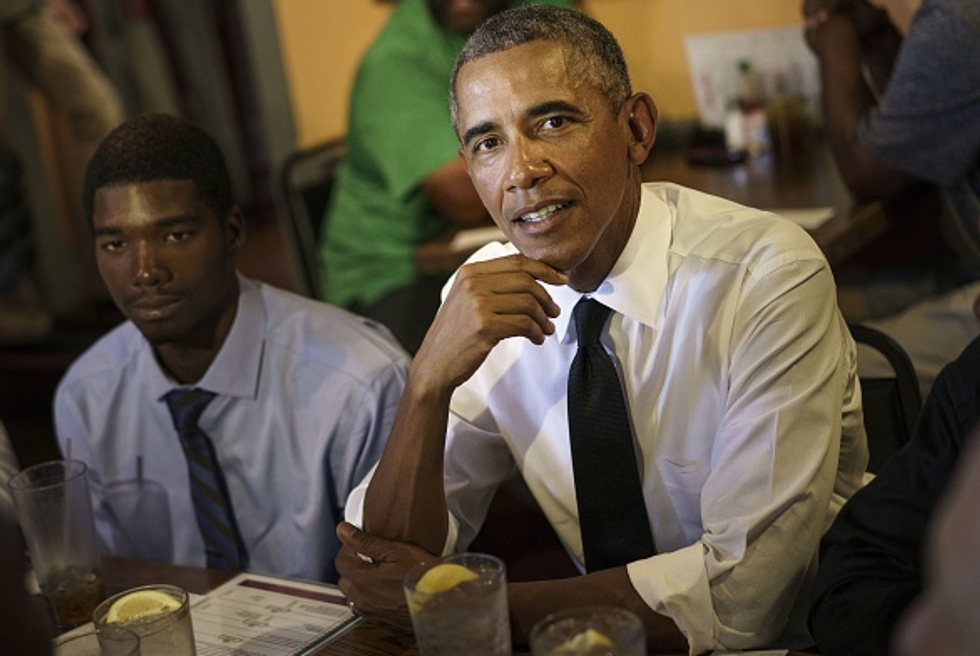 President Barack Obama waits for a lunch with residents at Willie Mae's Restaurant August 27, 2015 in New Orleans, Louisiana. President Obama visited New Orleans Thursday to praise its people's 'extraordinary resilience,' 10 years after Hurricane Katrina ravaged the 'Big Easy' and shattered Americans' confidence in government.AFP PHOTO/BRENDAN SMIALOWSKI (Photo credit should read BRENDAN SMIALOWSKI/AFP/Getty Images)
The new fiscal year begins on Oct. 1. If Congress doesn't pass a budget, it must pass a continuing resolution, or a temporary measure to keep the government fully funded.
Earlier this week, Sen. Ted Cruz (R-Texas), a presidential candidate, said he would push for any continuing resolution to defund Planned Parenthood. Other Republicans have opposed removing the sequester cuts that would require a boost in federal spending.
In the speech, Obama talked about how the economy has recovered.
"It's why we need to do everything we can in government to make sure our progress keeps growing," Obama said. "That requires Congress to protect our momentum, not kill it. Congress is about to come back from a six-week recess."
"I want everybody to understand that Congress has about a month to pass a budget that helps our economy grow," Obama said. "Otherwise we risk shutting down the government and services we all count on for the second time in two years. That would not be responsible. It does not have to happen. Congress needs to fund America in a way that invests in our growth, in our security. Not in a way that cuts us off at the knees by locking in mindless austerity or short cited sequester cuts for our economy and our military."
Obama went on to issue a veto threat.
"I've said I would veto a budget like that," Obama said. "I think most Americans agree, we've got to invest in rather than cut things like military readiness, infrastructure, schools, public health, the research and development that keeps our companies on the cutting edge. That's what great nations do."
—