The polyamorous stars of a TLC reality show are challenging Utah over the state's appeal to reinstate a polygamy ban by pointing to the U.S. Supreme Court's decision to legalize gay marriage this summer, arguing that the government cannot punish those living in "unpopular unions."
Kody Brown and his wives, Robyn, Christine, Janelle and Meri — the stars of "Sister Wives" — are asking judges to reject an appeal by Utah of a judge's 2013 decision to strike a portion of the state's ban on polyamorous relationships, KSTU-TV reported.
U.S. District Judge Clark Waddoups ruled that the law's ban on cohabitation among individuals who are not married runs in contrast to the First and 14th Amendments, and essentially violates Brown's religious freedom, NPR reported at the time.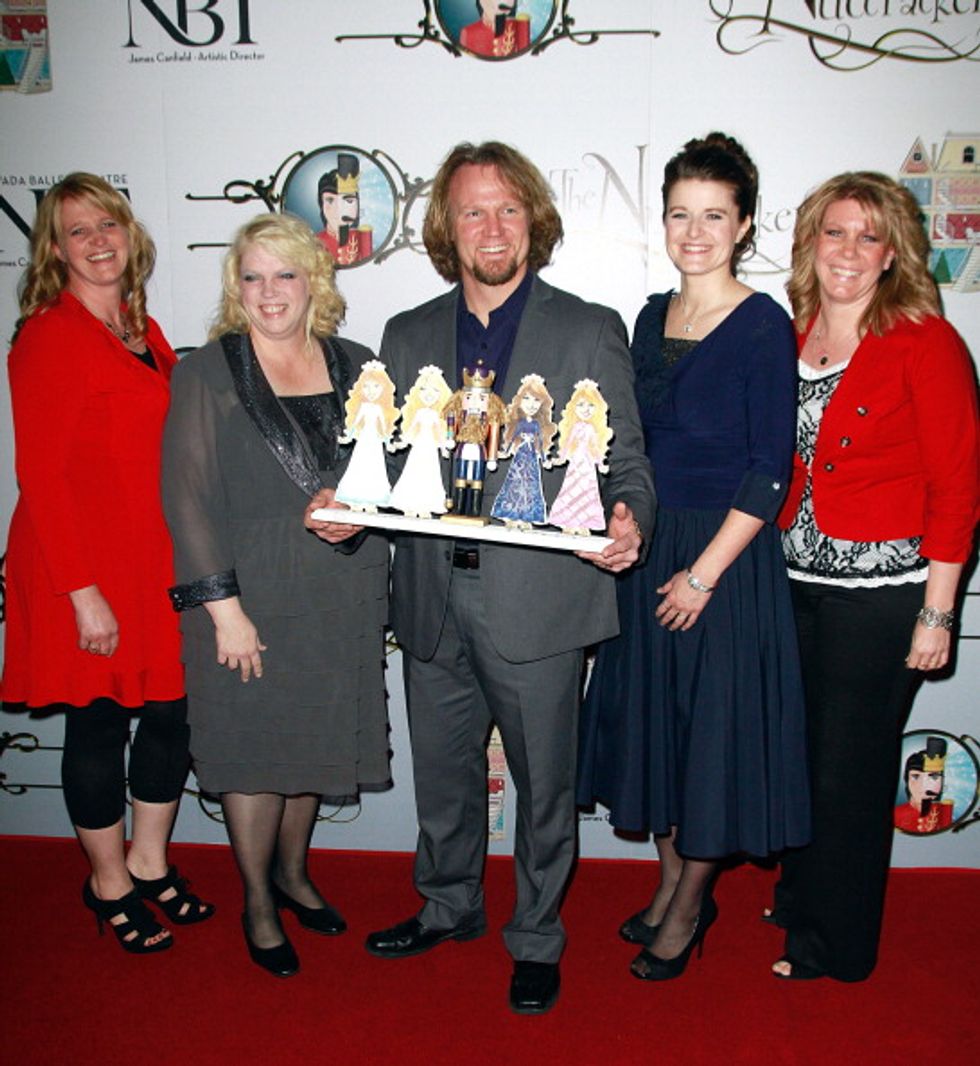 Cast of TLC's "Sister Wives": Christine Brown, Janelle Brown, Kody Brown, Robyn Brown and Meri Brown attend the Nevada Ballet Theatre's Production of 'The Nutcracker' opening night performance at the Smith Center on December 15, 2012 in Las Vegas, Nevada. (Photo by Marcel Thomas/FilmMagic)
Waddoups' ruling effectively decriminalized polygamy, leading the state to appeal. Now, Brown is once again pushing back, citing Supreme Court gay marriage cases United States v. Windsor and Obergefell v. Hodges, among others.
"From the rejection of morality legislation in Lawrence to the expansion of the protections of liberty interests in Obergefell, it is clear that states can no longer use criminal codes to coerce or punish those who choose to live in consensual but unpopular unions," Jonathan Turley, an attorney for Brown, wrote to the 10th U.S. Circuit Court in Denver. "This case is about criminalization of consensual relations and there are 21st century cases rather than 19th century cases that control."
Read the Brown family response below:
Brown has maintained that the legal battle is not about forcing acceptance of bigamy or challenging the rights of states to preclude individuals from holding multiple marriage licenses, but that it is, instead, about battling back against criminalization.
The state, though, maintains that polyamorous relationships are harmful to women and children.
"By only striking the cohabitation provision, the District Court left Utah with the same law maintained by most states in the Union prohibiting bigamy," Turley wrote. "What was lost to the state is precisely what is denied to all states: the right to impose criminal morality codes on citizens, compelling them to live their lives in accordance with the religious or social values of the majority of citizens."
Read more about the story here.
(H/T: KSTU-TV)