The Florida college student cited for a rousing performance of the Star Spangled Banner on July Fourth learned Friday that the State's Attorney's office had dropped all the charges against him.
Lane Pittman was cited for breaching the peace and inciting a riot after a crowd of about 300 individuals gathered on the streets near Neptune Beach to hear him play the national anthem on Independence Day. The college student, who said he was simply celebrating his patriotism within his First Amendment rights, vowed to fight the charges and refused a community service deal. Police had said the crowd was getting out of hand and blocking traffic.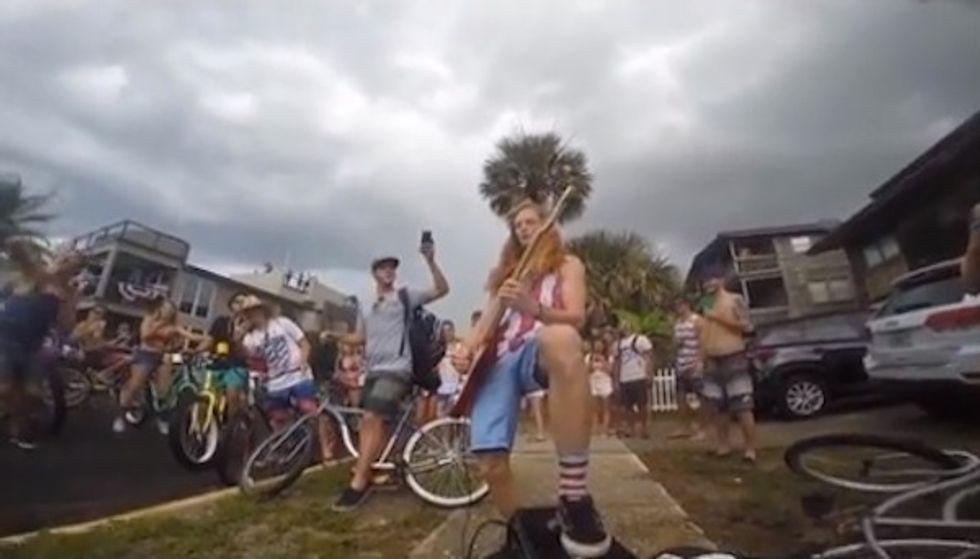 Image source: Screen grab via YouTube
On Friday, he was rewarded.
"ALL. GLORY. TO GOD," a message Pittman posted on Facebook read, according to Fox News. "The State Attorney's office has decided to drop all charges!!!! SO pumped!! Thank you for all the prayers, kind words, and thoughts!! It means the world!!"
His attorney Caleb Rowland confirmed the news to website Legal Insurrection.
"Despite the delay, Mr. Pittman is pleased the State's Attorney's office declined to prosecute him for expressing his patriotism and exercising his First Amendment right by playing the National Anthem on Independence Day," he said.
Here's video of Pittman's rousing performance:
—
Follow the author of this story on Twitter and Facebook: