A man taking his drone out for a spin while on vacation in Rhode Island caught something entirely unexpected on a 175-foot wind turbine.
Just as his drone reached the top, its blades still, it spotted a man laying on the body of the turbine, seeming to be taking in the sunshine.
According to a description on the video the drone pilot, identified as Kevin Miller of California, wrote that he figured it was "my chance to get up close to capture what is usually tough to access. So I decided to drive up and get a super close video while it was not in operation."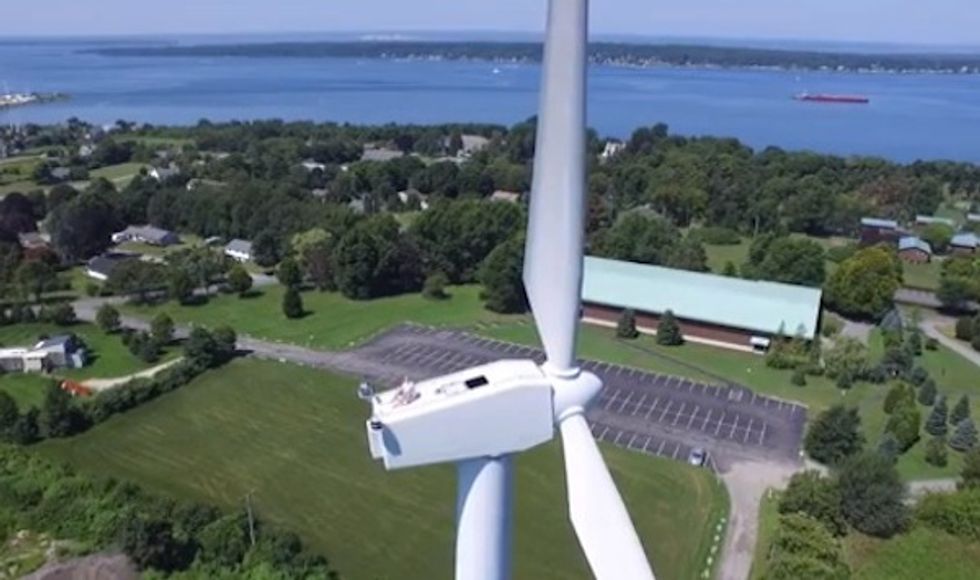 Image source: YouTube
Noticing the drone, the man on top sat up and waved. The device zoomed in to get a closer look and make sure the video lens was not deceiving him.
"At that point I decided to take a closer look by moving closer to say hi," Miller wrote. "Once I got closer I moved the drone side to side to say hello and he motioned back to the drone. It was a cool interaction between us. From there I moved on to do what I came to do and fly around the wind turbine to capture the future of this technology."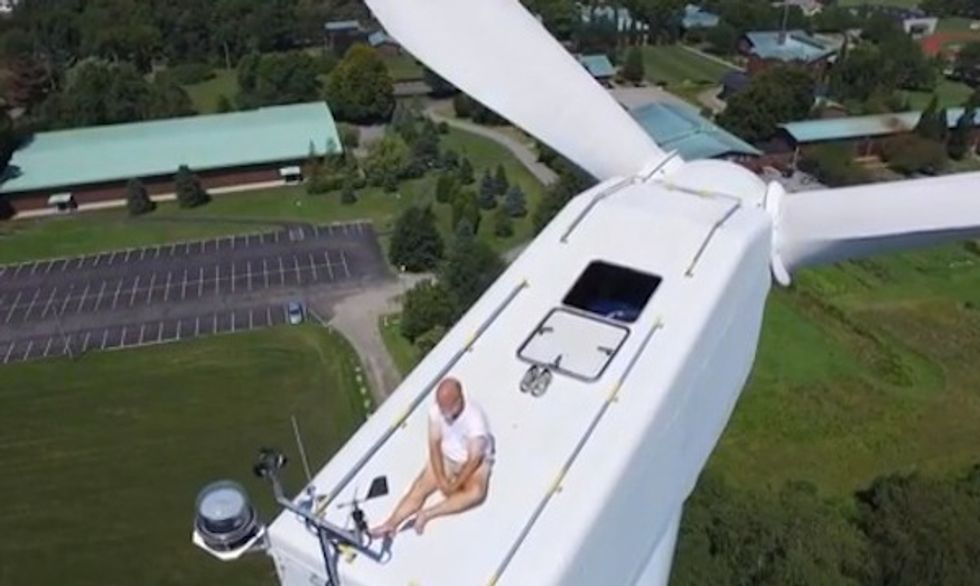 Image source: YouTube
Watch the footage:
It's unclear exactly how the man reached the top, but it was likely through a service door at the bottom up to a hatch, as seen in the video, at the top.
Miller wrote on Reddit that the wind turbine is located at Portsmouth Abbey Monastery and School. He added that the man, he is "Brother Joseph, one of the Benedictine monks that live on campus. He likes to take students up the windmill when the weather's nice, and goes up there a lot in the summer to pray and reflect. I've been up twice, and the view is absolutely amazing."
Portsmouth Abbey's Twitter and the local newspaper are also confirming the man on top of the turbine is Brother Joseph Byron.
Byron told the Portsmouth Journal that while he's not afraid heights, finding it "peaceful" on top of the turbine, he did find all the attention of the drone footage a bit annoying.
"It seems you cannot go anywhere to get away anymore," he told the newspaper.
(H/T: Reddit)