A trio of top Jeb Bush fundraisers left his presidential campaign Friday as questions about its strength and varied reports about internal squabbles surfaced, Politico reported.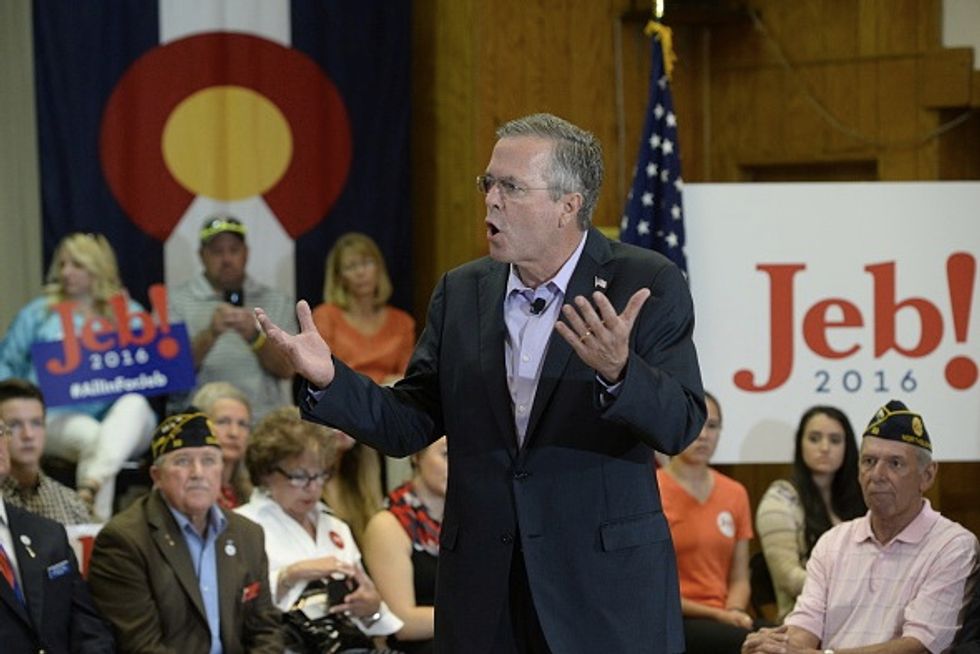 Former Florida Governor and GOP Presidential candidate Jeb Bush speaks at a town hall meeting on August 25, 2015. (Image source: Andy Cross/The Denver Post via Getty Images)
More from Politico:
There are different versions of what transpired. The Florida-based fundraising consultants — Kris Money, Trey McCarley, and Debbie Aleksander — have said that they voluntarily quit the campaign and were still working with Bush's super PAC, Right to Rise Super PAC. Others said the three, who worked under the same contract, were let go because they were no longer needed for the current phase of the campaign. [...]

The departures came at a time of uncertainty for Bush. While he has had massive success raising money for his Super PAC, he is overseeing an official campaign that has many more staffers but far less money. Earlier this week, the New York Times revealed that it had taken steps to rein in some of its spending and had gone so far as to cut some employee salaries. And POLITICO reported one Bush fundraiser expressed concerns about the slowing pace of the campaign's fundraising after Bush's shaky debate performance.

The Bush campaign wasted no time seeking a replacement for the three fundraising consultants and has reached out to Meredith O'Rourke – one of Florida's top Republican fundraisers who briefly worked for Chris Christie's campaign in May but left it in July. O'Rourke, who wouldn't comment, helped Gov. Rick Scott raise about $100 million for his 2014 reelection campaign and also works for Florida Agriculture Commissioner Adam Putnam, who's likely to run for governor in 2018.

One source attributed the departures to personality conflicts in the campaign. Some identified Bush's finance director, Heather Larrison, as a shouter with whom it's difficult to work. She wouldn't comment. Others singled out Money as a problem due to what they describe as his haughtiness and his heavy-handed donate-or-else attitude with potential contributors.
None of the fundraising consultants responded to requests for comment, Politico reported.
The Bush camp appeared unfazed by the development. Spokesman Tim Miller told the outlet that Bush "has the widest and deepest fundraising operation of any candidate in the field. Ann Herberger — a longtime aide with more than two decades of experience in state and national politics — will continue to lead the operation in Florida with our team in Miami."
"They were glad to go. This wasn't a shock to anybody," one campaign source told Politico. "There were just some personality problems. It happens when you have a big organization like this, a big campaign. Some of the national people are tough to work for."
Read the full Politico report here.
—
Follow Dave Urbanski (@DaveVUrbanski) on Twitter