Troutman Park in the village of Princeville, located in Peoria County, Illinois, has a baseball field, football and soccer field, trails for walking and places for picnicking.
But one major thing was missing.
"If you read on that sign, it says a park for all ages," Dean Troutman told WMBD-TV, pointing to a sign at the entrance of the park.
One major age group was not being served by the park — until now.
Earlier this year, Troutman walked 700 miles to help raise money for playground equipment in the park, which was installed Friday.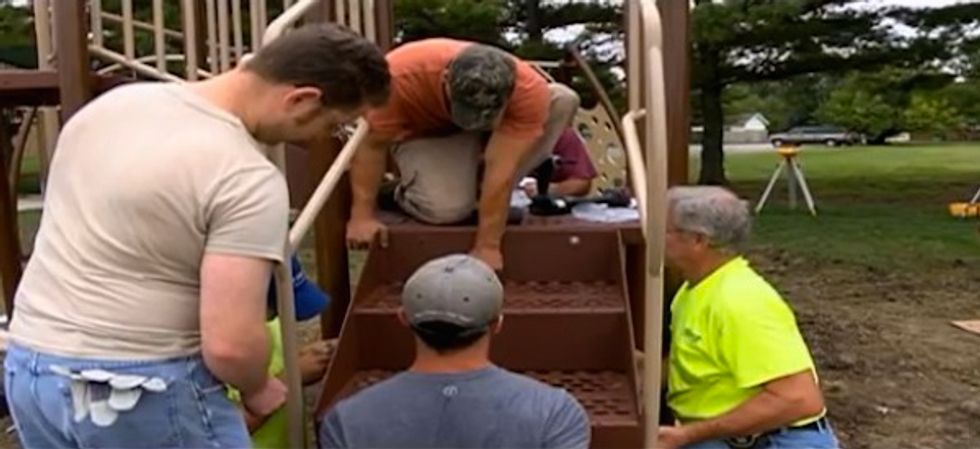 Volunteers helped Troutman and the playground company install equipment that his 700-mile walk helped buy. (Image source: WMBD-TV)
"Four, five six slides and there's five swings and there's climbing places," the 84-year-old man told the news station of the equipment, which cost $70,000.
In April, Troutman set off on the 700-mile journey around the state, which would take him three months to complete, the Peoria Journal Star reported.
Wednesday, July 8th is the Princeville Heritage Museum's community coffee from 8 to 10am. Mr. Dean Troutman will be at the museum for the coffee. Stop by to congratulate Dean on his amazing journey.

Posted by Troutman's Trek on Tuesday, July 7, 2015
According to Troutman's website, he purchased the 5.75-acre park in 2011 in honor of his late wife, Peggy, of  62 years. "Troutman's Trek," as it was called, included stops at places in the state that were important to his relationship with his wife. He pushed a cart with all of his necessities, which included a Patsy Cline cassette tape, according to the Peoria Journal Star, and wore a hat that read "4 Peggy."
According to WMBD, Troutman raised about $45,000 on his trek to go toward playground equipment and the rest of the funds were donated by the playground company.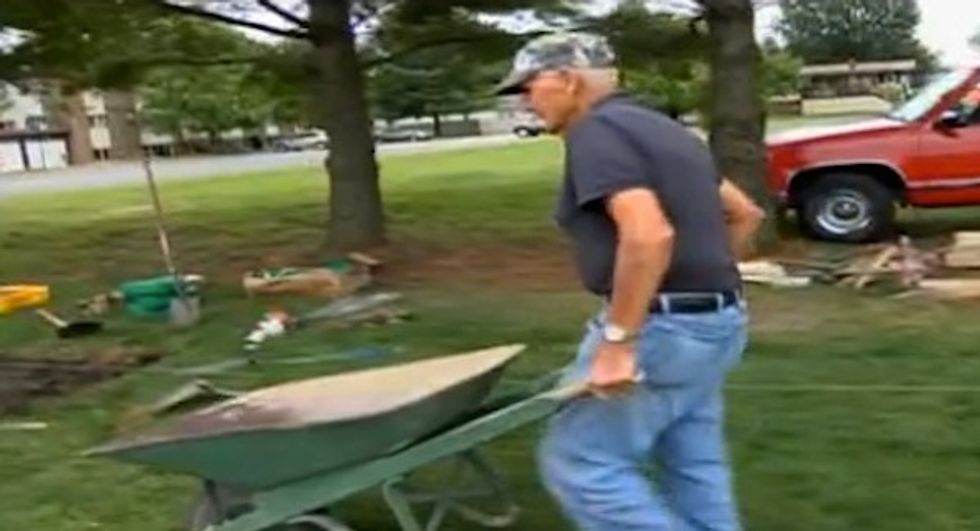 Troutman told the news station the walk was easy compared to the work he's doing at the park. (Image source: WMBD-TV)
With the cement still drying Friday, Troutman told the news station he planned to sleep in the park to make sure it remained in pristine condition, free from footprints or anyone seeking to scribble a name in it.
Watch WMBD's report:
(H/T: Reddit)