Former Alaska governor and 2008 vice presidential candidate Sarah Palin hosted GOP presidential candidate Donald Trump for a more than 10 minute interview Friday night that's being called "bonkers," "gushing" and "inane" by other media outlets.
Some are saying Palin "showered Donald Trump with adoration."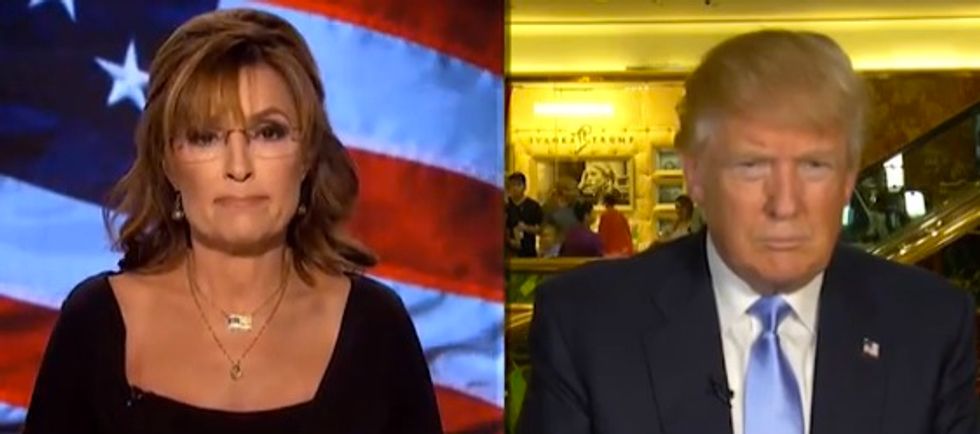 Image source: YouTube
Well, here's how it started.
"Everything about Trump's campaign is avante-guard and he is crushing it in the polls," Palin said on the show "On Point" with One America News before bringing Trump in for an interview.
Addressing the working class first, Palin asked the New York City businessman how the U.S. economy is doing as it reacts to world markets.
"If you really look, Sarah, at the economy, it's been terrible," Trump said. "We have 93 million people out of work. They look for jobs, they give up and then, all of the sudden, statistically, they're considered employed.
"Our economy is doing terribly," Trump continued, citing the jobs the U.S. has lost to other countries.
Palin then had Trump weigh in on his views for fixing "our screwed up tax code." Trump lamented the complexity of the current tax code.
"When I say simplification ... the easiest way and the quickest way, at least on a temporary basis, is simplification of the code, get rid of deductions, reduce taxes," he said, adding that tax code reform needs to be done in a way that helps the middle class.
Next, Palin brought up the support that she's seen from military members for Trump.
"How is it that you made that connection?" she asked.
Trump, first praising Palin for her own connection to the military, said veterans are being treated like "third-class citizens" with "incompetent management, incompetent leadership" handling the money meant to help them.
"They did a poll recently and I'm very popular with the vets because they know I'll fix the veterans administration," Trump said. "It's a disgrace the way vets are being treated in our country."
Going back to Trump's activity on the campaign trail, Palin asked "where did you get your guts for that kind of necessary confrontation," referencing Jorge Ramos, a Univision reporter, being escorted out of a press conference.
"He was totally out of line. He was screaming and ranting and raving," Trump said, explaining that Ramos' actions were hurting the rest of the press present who were being respectful, waiting to ask questions. "Frankly, Sarah, the press was pretty good to me on that."
And the interview goes on from there. Check it out: