A libertarian student group was confronted by an administrator on a Ohio public university campus recently and told they were not allowed to pass out copies of the U.S. Constitution to passerby without first obtaining permission from the school.
University of Akron law student Anthony Palumbo told college-news website Campus Reform that the school administrator confronted them within minutes of setting up pro-free market signs.
"Hello, I work at the university. Let me just give you the low down about what you're allowed to do when it comes to 'solicitation' on a college campus. This is a public space, but within our confines we are allowed to choose what can be here, and we do that through a process of applying to be in the public space," the employee told the student group which is affiliated with the Young Americans for Liberty.
"They're not going to deny you, sir; I guarantee you," she later assured the students.
The unidentified school administrator told the Young Americans for Liberty group that even though the organization was made up of students, it was not actually a student group since it was not registered with the university.
"Okay, so you're still considered a group of people who are allowed to assemble on the University of Akron's campus," she said. "You just need to go through the normal process like everybody else."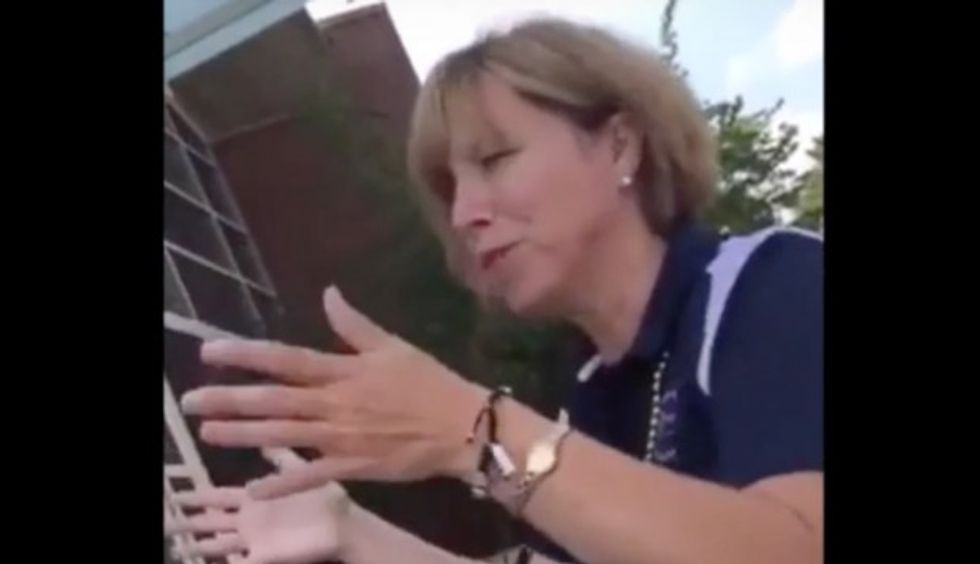 Image source: Campus Reform / YouTube
"And we'll be a group today?" Palumbo asked.
"No, I'm sorry sir, you will not be a group today," she responded. "Up to three days."
"And that is the condition of us being out here?" Palumbo asked.
"Yes it is, sir," she said.
The university administrator told the students that if they did not leave, she could call the police.
"I'm going to call the police and you're going to be charged with trespassing. That could happen, I'm not going to do that. I'm just giving you your rights. I need to go in there and do my due diligence today, but I'm giving you as much time as I can in the process," she replied.
The group ultimately decided to obey the administrator's orders. Palumbo later told Campus Reform that the students were not being disruptive while distributing literature.
"We had signs with various messages, and we were passing out Constitutions," he said. "Our only purpose there was for our basic right of free speech in an area that was a public area. We had no intent to harm anyone and we were freely exercising our rights."
A spokesperson for the University of Akron stood by the administrator's actions.
"The official very clearly explains The University of Akron's policy, and that groups are welcome to reserve a space on campus for their activities as long as they follow the process that has been in place for years," Dan Minnich, director of media relations, told Campus Reform.
—
Follow the author of this story on Twitter and Facebook: